Q&A with Sagri Frieber, ASID Associate, Owner of Accents By Design of Bedminster
Interview by Laurie Pellichero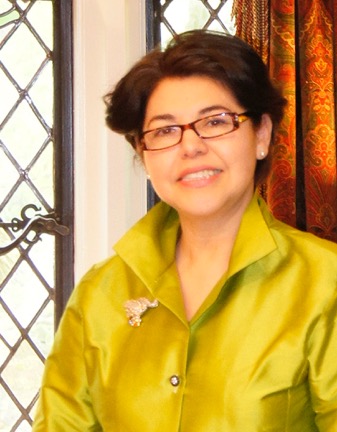 How long have you been in business, and what is your design background?
Thirty years ago, while a diplomat at the United Nations, I attended the Fashion Institute of Technology at night. I supplemented my income by decorating the residences of UN dignitaries. I moved to Bedminster to raise my family and pursue my passion for interior decorating. I started the business in 1991 and 10 years later opened our store in the heart of Bedminster. Accents By Design offers full service interior design, accessories, and high-end window treatments.
Accents By Design specializes in expert design services, but you also offer many accent pieces in your showroom. What types of items are available?
We offer a wide array of specialty gifts as well as bedding, fabrics, furniture, handmade pillows, lamps, paintings, trims, and wallpaper. We provide our own wallpaper installer and furniture upholsterer.
Tell me about your custom window treatments, as well as your unique fabrics, wallpapers, and carpeting.
We are well known for our custom-made window treatments, which are fabricated in our own state-of-the-art workroom. By having our own workroom, we are able to deliver the finished product quickly and with attention to every detail.
What design trends are you seeing now?
As you know, the trend has been to decorate with monochromatic tones such as greys and taupes. I am introducing flashes of color in the form of accessories, chairs, pillows, throws, or window treatments in order to liven the décor.
How do you guide your clients in making the right choices for their home or business?
I incorporate my clients' personal styles and preferences into the overall design. I believe that our success is a product of attention to detail, excellent service, unique designs, and unmatched turnaround time.
Accents By Design; 325 Main Street,
Bedminster NJ
Open Tuesday-Friday 10am-5pm,
Saturday 11am-4pm
908.234.9425
www.accentsbydesign.com