Blair Celebrates Commencement of Class of 2018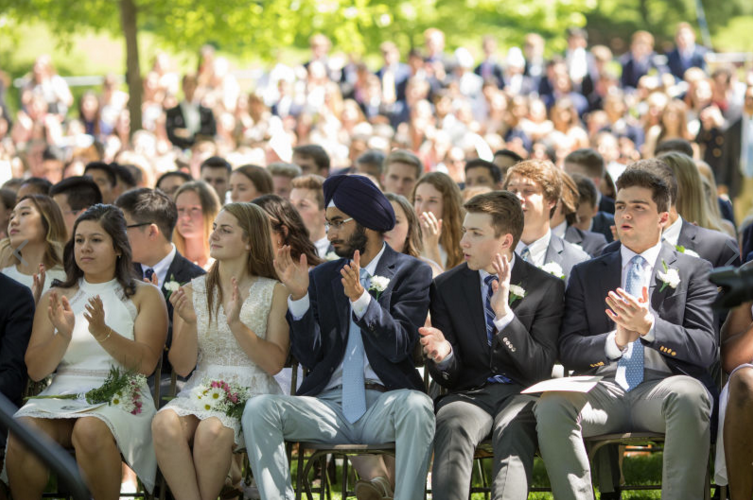 Blair Academy marked its 170th commencement on May 24 as the members of class of 2018 received their diplomas before an enthusiastic and appreciative audience of Trustees, faculty, students and family members. Assembled on the sun-dappled lawn in front of Sharpe House, seniors celebrated their accomplishments and promising futures as they enjoyed their final class gathering before joining Blair's alumni ranks.
The traditional faculty, Trustee and senior procession opened the graduation ceremony, after which Blair chaplain and religion and philosophy department chair the Rev. Lisa Durkee offered the invocation. Head of School Chris Fortunato and Senior Class Council members Helen Mercedes '18 and Ronan Smarth '18 each stepped to the podium to welcome guests, thank all those who made students' Blair experience possible and reflect briefly on the momentous occasion.
Presentation of faculty awards and appointments to the United States service academies followed (please see list of appointees below), after which three top student prizes were accorded: Kenza Fernandez '18 andEmma Mohlmann '18 received the Headmaster's Prize; William Kaiser '18 won the Blair Academy Trophy; and Rebecca Xi '18 was named class speaker as the recipient of the George P. Jenkins '32 Prize.
Mr. Fortunato took the opportunity to advise Blair's newest alumni one more time before they headed off to make their mark on the world. Noting that each of us is an unending work-in-progress, he affirmed that the members of the class of 2018 are all becoming exactly what the world needs to make it a better place. He also encouraged seniors to carry the "Blair bubble" wherever they go. "Inside that bubble is the best you've experienced here and the best that you've become, and it lives in the good work you'll do in the lives of others," he said. "So spread the 'bubble' beyond this campus, and go make the world more like the best that you've experienced and created here."
Finally, Mr. Fortunato introduced Richard Rubin '68, longtime class representative of this year's 50th-reunion class, who presented the class of 2018 pennant to Timothy Johns '18. As the Blair Academy Commencement Ensemble struck up Beethoven's "Ode to Joy," the class of 2018 triumphantly processed from Sharpe House, through the Arch and into the waiting arms of their cheering families and friends. Congratulations, class of 2018!