Color is Back! Spring Trends in Home Decor

Photo Courtesy of Serena & Lily
Spring is the season for renewal, and the perfect time to freshen up your home décor. Luckily there are plenty of local designers who are happy to share their take on the latest trends, and offer advice on how to update any home. A few of them share their thoughts here.
By Laurie Pellichero
Linda Kitson, designer and owner of MarketPlace Designs in Summit, said that color is a very big trend for spring. "The appetite for color has been building for a while, and COLOR has definitely arrived. Recent magazine covers have been showing not just color, but strong colors—even a mix of strong colors."
Kitson noted that some clients are open to using color with confidence in bold statements, such as with larger furniture pieces and wall coverings. "Here, in the northeastern U.S., we get beautiful clear-sky days and colors read as fresh and alive," she said. "The days of grays are coming to a close. Neutrals will always have a place, but color is part of personal expression unlike anything else. It plays in fashion, in autos, and most certainly in homes. If you're feeling color-hungry, now is the time to partake."
The Pantone Color of the Year for 2018 is Ultra Violet, and Kitson has noticed the passion for purple. "Purple has inspired home consumers more than any other color trend expressed to me in a while," she said. "I have two clients that have found purple intriguing, requesting it, and we're folding it into their projects. One is the refreshing of a beach house that is navy and cream; we're adding Sherwin Williams Izmir Purple (SW-6825) with the existing colors to give the space depth and structure.
"The other project palette is based on the fabric Artik from Scalamandre, which is a stitched stripe of strong colors on linen. The client fell in love with the fabric and it became our springboard to colors. We're incorporating Threshold Taupe (SW-7501) to complement the linen and accenting with fabulous strong stripe colors, including purple."
Another trend Kitson sees is accent walls being used in a number of ways. "One special wall, treated with color, pattern, or a finish is an excellent way to incorporate some interest into a previously homogenous space," she said. "This has been seen recently with hand-painted murals, wallpaper features, color blocks, or strong colorful graphic shapes."   
She also said that using an open-weave sheer with a color underneath brings a new look to window coverings.
But Kitson warns that a space should incorporate only one or two trends at a time.  "Trends, by nature, build and fade," she said. "Several trends together can easily make a space feel overwhelming or off-balance. I'm frequently asked to rework and 'realign' rather than redesign spaces to convey calm, happy, personal, and peaceful qualities."
A driving philosophy of MarketPlace Designs is to plan spaces to address function beautifully. "Balancing light, proportion, colors, contour, details, and more is the magical mix of exceptional design," she said. "I believe beauty must be a strong element in the design objective, even in a minimal application, because utility will always take care of itself."
MarketPlace Designs offers a two-hour, no obligation in-home consultation, where homeowners and business managers can get candid feedback to their design questions. Call 908.273-9381 or go to www.MarketPlaceDesigns.com for a glimpse. Kitson's designs can also be seen in this year's Bucks County Showhouse in Pipersville, Pa. from April 29 to May 27. Visit www.buckscountydesignerhouse.org.
Serena & Lily, which recently opened a new design shop in Summit, also sees color as a trend for spring. The company, which has locations in Atlanta, San Francisco, Los Angeles, Newport Beach, Westport, and the Hamptons in New York, offers a fresh approach to bedding, furniture, and home.
Kirsty Williams, senior vice president of design for Serena & Lily, said, "Pops of green and yellow against neutral backdrops of white and sand will brighten up any space."
She also noted that, "A big trend for spring is blurring the lines between indoor and out with outdoor pieces that are just as happy in your living room or backyard."
The look of Serena & Lily is "casual and coastal, relaxed yet refined. Our designs blend classic influences with modern lines; eclectic inspiration with great American style. We love spaces that feel put together, yet livable—well-traveled with a personal point of view."
Another trend at Serena & Lilly is in linen bedding. "We love the year-round comfort and luxury of linen sheets, warm in the fall and cool in the hot summer months," said Williams.
The Serena & Lily design shop is at 428 Springfield Avenue in Summit. Call 908.913.7265 or visit the website at serenaandlily.com for more spring inspiration.
Photo Courtesy of Serena & Lily
Speaking of bedding, Boll & Branch, also in Summit, is proud to be the largest consumer of Fair Trade organic cotton in the world today, which the company uses to create its luxurious sheets, bedding, bath, and home products.
"My husband, Scott, and I founded Boll & Branch with the mission of making home textiles we feel good sharing with our families," said Missy Tannen, co-founder and head of design. "We're so proud to grow the company here in Summit, while having a positive global impact through our dedication to maintaining ethical and sustainable practices throughout our supply chain, starting with sourcing the finest organic cotton from India."
"Over the past four years, our offerings have grown from our classic, ultra-luxe signature soft sheet sets to cozy bed quilts and extra plush bath sheets," continued Tannen. "Every new product we introduce is meticulously crafted and thoughtfully designed for the modern home. We're dedicated to making pieces that stand the test of time and look gorgeous in any room."
For spring, we're excited to introduce our Sateen Stripe Sheet Sets, which feature a subtle geometric pattern in the weave. Our organic cotton is perfect as the weather starts to warm up — breathable and light but still cozy for Saturday mornings in bed."
According to the Tannens, the Boll & Branch seal means more than just meticulous craftsmanship. It means economic opportunities for the farmers and factory workers that dedicate their lives to the cultivation and manufacturing of cotton textiles. It also means that each product was made with respect for the human and environmental resources that made it possible.
For more about Boll & Branch, call 800.678.3234 or visit the website at www.bollandbranch.com.
Photo Courtesy of Mimi & Hill Interiors
Over in Westfield, Mimi & Hill Interiors, owned by Miriam Silver Verga and Hillary Kaplan, is all about finding the perfect balance in design. After careers in fashion design and interior design publishing, they started their own company to create authentic, unique spaces that speak to their clients' individuality. They say that their approach as partners balances a room with carefully collected vintage pieces, custom items made for one's living space by skilled artisans, and affordable, accessible items that reflect the homeowner's style.
For spring, Verga said, "We think the soft pastels we have seen will continue, along with plenty of wicker used indoors."
While color is important, she said that using black indoors is always a way to ground a room. "You need to balance cool with warmth. We are drawn to lightness, but it needs to be grounded. You need to balance light with dark to connect the space."
Verga added that floating shelves are here to stay as a functional design element, and light floors are seeing a resurgence.
"Kitchens with a mix of white and oak are a fresh take on white kitchen that breathes nature into our indoor experience," she said.
Also on trend is using plants indoors in every room, including the bathroom, as a way to breathe in the outdoors all year round.
"The plant movement came from California," said Verga. "Plants like succulents and large trees such as figs are now being used indoors to bring the outside in, which is great for East Coast living. Succulents just need good light, and can be almost ignored. Plants also ground the space, and the green reminds you to breathe and take in the environment. With more and more people living in smaller spaces, it's one more way to have that 'outdoors-in' feeling."
Verga added that some people treat plants "almost like a member of the family," and sometimes even give them names.
She said that the Mimi & Hill Interiors showroom has been carrying more and more planters. "People commit to them as pieces of art. They are very popular."
Sculptural objects that have a function are also a big draw. "The bigger, the better," said Verga.
Also on trend are things that look and feel handmade, and she said they are seeing an increased interest in textiles. "Antique soft pastels and warm soft colors speak to spring. Our clients are asking for them."
Mimi & Hill Interiors is at 227 Elmer Street in Westfield. Call 908.588.2202 or visit the website at www.mimiandhill.com.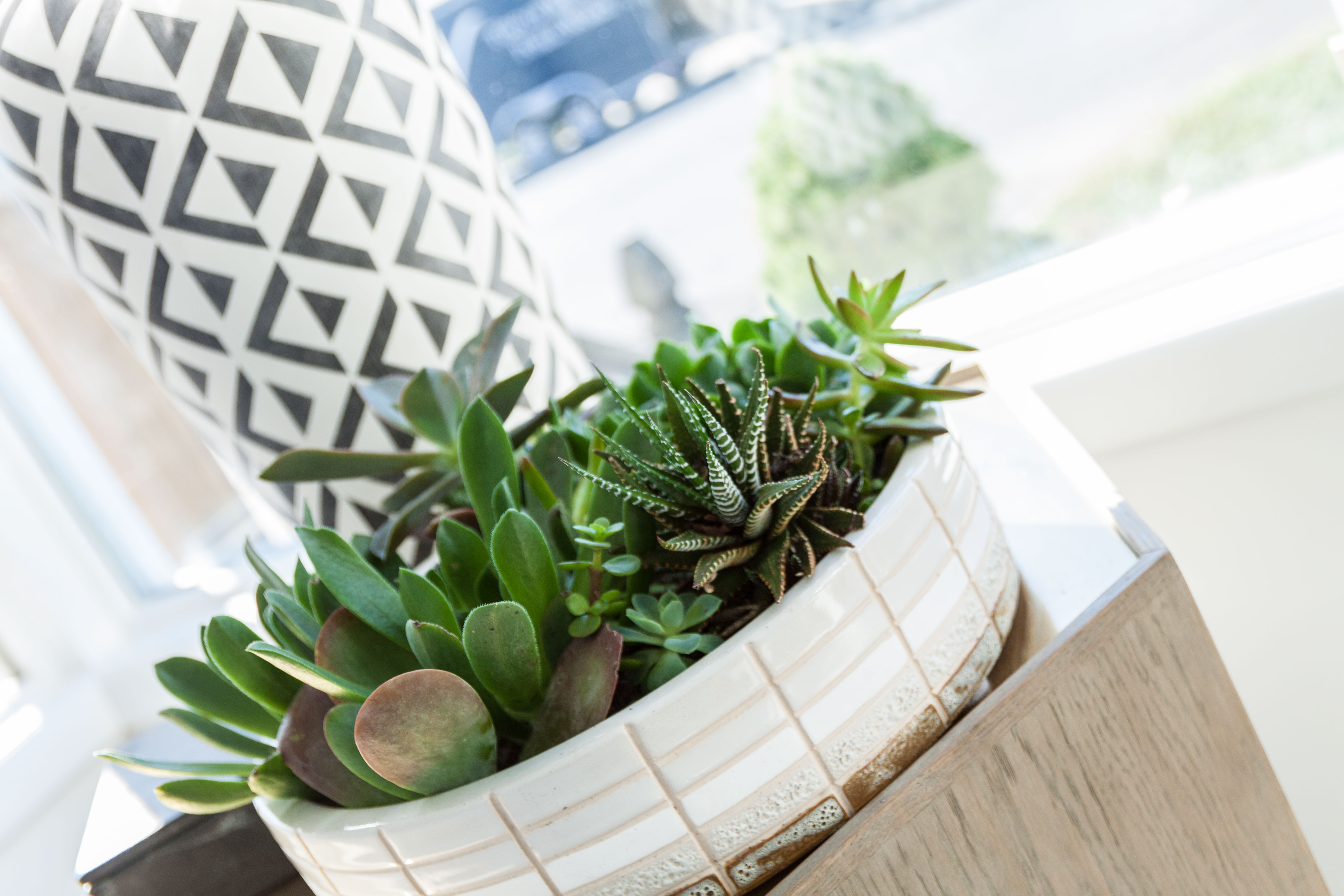 Photo Courtesy of Mimi & Hill Interiors
Whether you are updating a single room, decorating an entire home, or simply looking for unique gifts and stylish accessories, Design Studio of Somerville is a full-service design firm and retail boutique destination. Its 3,000-square-foot design showroom and luxury home shop are filled with a well-curated, eclectic mix of décor and furniture.
"To have the room of your dreams, it has to make sense first," said Tom Sfisco, owner and creative director of Design Studio of Somerville.  "Function over form is a lifetime trend I follow. Form is the easy part, making the room work for the person or people living in it. For example, an active family has insurance on their furniture investment because they can choose washable slipcovers. They can even choose to upholster their furniture in fabric from Crypton or Sunbrella."
He added that washable slipcovers make the bold choice of white possible, providing a blank canvas for multiple accent color options.
"In 2018 color is finally back," said Sfisco. "This should help the tiresome one-layer look we've been seeing so much of with the grays. Our store, which I refer to as our 'living portfolio,' will be showcasing a world beyond gray with the addition of more pinks, oranges, and other bright colors this spring."
With almost 30 years of experience and a broad range of style perspectives, Sfisco and his team of design pros can bring your visions to life. "We strive to make the design process an enjoyable one," he said. "Your inspiration, combined with our design expertise, results in a home that you will love to live in."
The Design Studio of Somerville flagship store is located at 67 West Main Street in downtown Somerville. Call 908.685.1921 or visit the website at www.dsosdesign.com.
Photo Courtesy of Design Studio of Somerville