Third Floor: Designer Dresses, Fourth Floor: Gourmet Lunch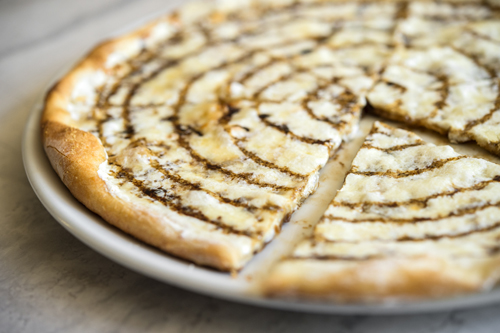 At the famed Paris department store Galeries Lafayette, elegant dining is considered a vital part of the shopping experience. At London's Harvey Nichols store, lunch in the fifth floor restaurant is taken as seriously as shopping for Pradas and Jimmy Choos.
New York emporiums took their time catching up to their European counterparts. But in Barney's, Bloomingdale's, Bergdorf-Goodman, and other shopping meccas around the city, dining is now a major draw. Eateries in these stores have turned into destinations in themselves, beckoning not only shoppers in search of sustenance but "outsiders" as well.
In the lunch crowd of Fred's at Barney's, located on the ninth floor of the chic store at 660 Madison Avenue, tables of workers having business lunches are a common sight. This lively restaurant draws from offices in the
neighborhood, and the banquettes just outside the front door are often lined with those waiting for a table.
The stark décor is in keeping with the minimalist vibe of the store. But there is nothing minimalist about the menu. Customers can choose from such specialties as Baltimore Crab Cakes, a Lobster Club Sandwich, and Pizza
Rabioli with truffle oil. There are generous salads for the diet-conscious. And the very PC menu has offerings such as an omelette of "humanely raised, moveable pen eggs from Vermont."
Fred's is open for lunch, dinner, and cocktails daily with brunch on weekends. The restaurant also offers full-service on-and-off-premise catering and event planning. Call 212.833.2200 or visit www.barneys.com.
The ladies who lunch lay claim to BG, the seventh floor restaurant at Bergdorf Goodman. While some from alternate walks of life manage to snag tables at this aerie overlooking Central Park, it is the blond, slim, impeccably groomed and lip-plumped who dominate the dining room. Interior designer Kelly Wearstler created this cozy yet elegant four-room jewel box of a space.
The Gotham Salad is a favorite, as is Ahi Tuna Poke (raw tuna), the Jumbo Lump Crab Salad Sandwich, and Vermont Buratta (a pouch of mozzarella enclosing cream and mozzarella shreds). Not surprisingly, every menu item lists
the fat, cholesterol, carbohydrate, sodium, and calorie content—except for the pastries and tea sandwiches at Afternoon Tea, which is served daily from 3 to 5 PM. The restaurant, which offers numerous wines and champagnes, is open for private events. Bergdorf Goodman is located at Fifth Avenue and 57th Street. Visit www.bergdorfgoodman.com or call 212.872.8977.
There are multiple cafes and counters in the megastore known as Macy's for quick refueling. But Stella 34 Trattoria, located in a former storage area on the sixth floor, is the place for a satisfying meal. The restaurant's high ceilings and soothing, all-white décor are a framework for caricatures on the walls of such personalities as television's Al Roker and designer Betsey Johnson. Diners sit at stylish curved banquettes, some of which overlook the Empire State Building. There is a take-out bar in front showcasing fresh pasta. Other Italian-themed dishes such as wood-fired Neopolitan pizzas and paninis are on the menu, and can be accompanied by a glass of Prosecco. Macy's is at Broadway and 34th Street. Call 212.967.9251 or visit www.stella34.com.
No less than Michelin star Chef Jean-George Vongerichten and executive chef Dan Kluter are credited with the kitchen at ABC Cocina, the très chic eatery at ABC Carpet and Home, also home to ABC Kitchen. The emphasis is on locally sourced dishes with a Latin accent. Freshness is paramount. Go for lunch, dinner, or brunch (on weekends). The lunch menu includes such delicacies as Raw Shaved Fluke with Green Chili Rice and Herbs, Mexican Lasagna with Stewed Chicken, and Peekytoe Crab Fritters with Chipotle Mayo. The store is at 38 East 19th Street. Call 212.677.2233 or visit www.abccocinanyc.com.
Most Tommy Bahama stores across the country have restaurants. But the New York flagship's Tommy Bahama Restaurant & Bar is special—a two-story urban oasis with a hip bar downstairs and an airy dining room up a winding staircase. Fresh seafood with an island feel, served in large portions, is the focus of the ample menu, which also offers such specialties as Char-Grilled Filet Mignon Salad, Seared Ahi Tuna in a Chile & Brown Sugar Crust, and the ubiquitous Lobster Roll, this time as a BLT. Located at 551 Fifth Avenue and 45th Street, the restaurant is open for lunch, dinner, and drinks, and offers group and event dining. Call 212.537.0960 or visit www.tommybahama.com.
A few blocks north, the Armani Ristorante at Giorgio Armani is a hushed, dark, dining room designed by Giorgio himself, right down to the flatware. The room can be entered through the store, but it also has a private elevator from 56th Street—much more elegant.
The Italian-themed menu includes a salad of shaved artichoke, baby mache, celery, Pecorino Sardo Gran Cru, and lemon. There are inventive takes on risotto, gnocchi, and ravioli. Squid ink chitarrine (spaghetti made with hard grain semolina and eggs) is cooked with braised cuttlefish, cold pressed pepper, and fennel crumble. Should you dare to indulge in dessert among the slender, Armani-clad patrons, there is a warm dark chocolate fondant with Gianduja chocolate gelato. The restaurant is at 717 5th Avenue at 57th Street. Call 212.207.1902 or visit www.armanirestaurants.com.
Survey the scene at Rockefeller Center from Café SFA, on the 8th floor of Saks Fifth Avenue. Located near the store's shoe department, which is so big that it has its own zip code (10022-SHOE), the café has a seasonal menu and daily specials with an eclectic menu of specialty cocktails. There was nothing too adventurous on a recent menu, just comforting fare like Jumbo Lump Crab Cake, Crab and Corn Chowder, a Lobster Wedge Salad and Garganelli (egg-based) pasta and Short Rib Ragout. The café attracts shoppers and tourists and is open daily until 4:30PM. Saks is at 611 Fifth Avenue at 50th Street. Call 212.940.4577 or visit www.cafesfa.com.
There are multiple dining opportunities at Bloomingdale's flagship store on 59th Street—the old standbys 40 Carrots on the 7th floor and Le Train Bleu one floor below—and the popular David Burke, which draws crowds on the busy first floor. But don't overlook Flip, which is nestled into a space on the lower level. The burgers here are worth every fat gram, and you can build your own with such inventive ingredients as brisket blend beef, Tandoori onion ring or good old Russian dressing. Salads, if you must, are fairly traditional, listed with suggested wine pairings. If you are traipsing through Bloomingdale's with hungry children, this is the place to go. The restaurant is open daily until one hour before closing. Call 212.705.2000 or visit www.bloomingdales.com.