Design Thinking Playground Project Comes to Completion at Saddle River Day School
Written by Saddle River Day School 
Saddle River Day School (SRDS) hosted a community build to finally complete the Lower School playground designed by last year's seventh grade.The school integrates a concept called "design thinking" throughout many facets of its curriculum.  Unlike analytical thinking, design thinking encourages students to build up ideas, with few limits on breadth through a brainstorming process. This process encourages input and participation from a wide variety of sources in the ideation phases as students 'think outside the box' to come up with real solutions in problem solving through seven stages: define, research, ideate, prototype, choose, implement, and learn.  Within these seven steps, problems can be framed, the right questions can be asked, more ideas can be created, and the best answers can be chosen.
Through the design thinking process, seventh graders worked all year to design a new playground to replace the dated playground at SRDS for PreK-2nd graders. First, students observed the students playing on the structure, took photos and measurements. Then, they interviewed all students in PreK-2nd grade and their teachers. They took notes, photos and videos to document their work. Next, they researched various playground designs, what features would be appropriate for that age range and prioritized various elements of the play space.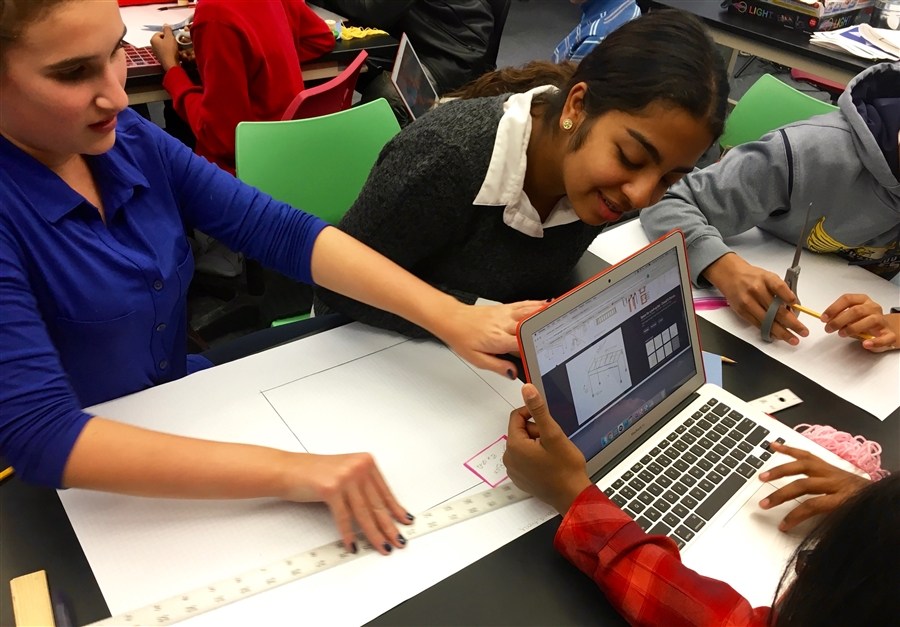 They divided into two groups to design drawings to scale with ideas for the playground, plan the space and compare designs. Next, students combined the best ideas from both teams and designed a 2D scaled plan. Then they divided into three teams:
Team A – videotaped the process for the project and conducted interviews.
Team B – created the concept, storyboard, script and casting for the 2 minute grant proposal video.
Team C – converted the 2D model to a 3D using various materials in the schools IDEAS (makerspace) lab by 3D printing, cardboard and various art materials.
The next step was to submit their plan to Scott Fenton of Playworld, a major playground producer, to get his feedback. He came to SRDS and presented his 3D CAD designs to the students to show them another view of the playground based on elements that Playworld currently manufactures. He commended them for their creative design, attention to detail and understanding of what children need on a playground to encourage physical fitness, imaginative play and safety. Lastly, a group of seventh graders presented the design and video to the lower school students (their 'clients') and teachers. Their presentation included details of the process, photos and videos.
The school finalized the details and came together on Saturday, September 16th to build the new playground as a community. Head of School Eileen Lambert, board of trustee members, faculty, staff, parents and students were all on hand to make the build go quickly and smoothly.