Fall Happenings — Wineries
Fall is a great time to visit the many area wineries. Mark your calendar for these upcoming events…
By Laurie Pellichero
Alba Vineyard
269 Riegelsville Warren Glen Road, Milford
www.albavineyard.com
Alba Vineyard's 93-acre estate is set in the hills of Warren County on the north side of the Musconetcong River Valley, a tributary of the Delaware River. The farm, originally a dairy farm, dates back to the late 1700s. The vineyards are the first cultivation of the land, so the soils were never subject to years of other farming and depletion of nutrients. Alba believes in sustainably farming premium grapes and crafting them into exceptional wines of great value.
Tastings are available daily from 11am to 5pm, 6pm on Saturday. The Arbor at Alba Vineyard features wood-fired pizza and estate and reserve wine tastings every Friday, Saturday, and Sunday from 11am to 5pm through mid-November. Music is featured from 1:30 to 5pm on Saturday, and 1 to 4:30pm on Sunday. Upcoming acts include BC Combo on October 26, the Kathy Phillips Trio on October 27, Last Thursday Band on November 2, 6th Street Trio on November 3, Frank DiBussolo Trio on November 9, and the Eric Mintel Quartet on November 10.
Brook Hollow Winery
594 State Highway 94, Columbia
www.brookhollowwinery.com
Brook Hollow Winery, a family farm winery, is located in the heart of the scenic Delaware Water Gap area. Each of its handcrafted wines is fermented, aged, and bottled by the family. Brook Hollow is dedicated to delivering dry, complex varietals that can be enjoyed alone or paired with favorite meals. A customer favorite is the Cranberry Wine, made from 100 percent fresh New Jersey cranberries.
The winery is open Monday through Thursday from 12 to 5pm, Friday 12 to 8:30pm, and Saturday and Sunday 12 to 6pm for tastings. It also features a variety of musical acts, including Late Night Kennel Club on Friday, October 25 from 6 to 8:30pm, Stan and Elise on October 26 from 1 to 4pm, Kate and Paul on October 27 from 2 to 5pm, Marty Koppel on November 1 from 6 to 8:30pm, Michael Long on November 3 from 1:30 to 4pm, and Pentley Holmes on November 8 from 6 to 8:30pm.
A Loaded Baked Potato Bar is featured at the winery on Friday, November 1 from 6 to 8:30pm, and Sunday, November 10 brings the Everything is Coming Up Rose Wine Release from 1 to 4pm. Comedy Night is November 29 at 8pm with Missy Allan, John Pizzi, and Peter Sasso.
4JG's Orchards & Vineyards
127 Hillsdale Road, Colts Neck
www.4jgswinery.com
Founded in 1999, 4JG's Orchards & Vineyards is located on a farm with barns and houses that date back to the early 1700s. The winery is named after the four founding members of the Giunco family, which has farmed in Monmouth County for more than 60 years.
4JG's has produced many award-winning wines, and stresses that from winter pruning to fall harvest, the vineyard is closely monitored and maintained to guarantee the wine grapes are exposed to the best combination of handcrafting, sunlight, and water. All 4JG's wines carry the Quality Wine Alliance (QWA) designation.
The Tasting Room is open from 12 to 5pm on Saturday and Sunday. Events at 4JG's include a Not-So-Haunted Wine Fest on Saturday, October 26 and Sunday, October 27; Soup and Sip, which pairs wines with soups, on November 9 and 10; Wine and Chocolate Weekend, with samplings of locally-crafted chocolates, on November 23 and November 24; and Holiday Shopping and Sipping on Friday, November 29 through Sunday December 1. All events are held from 12-5pm.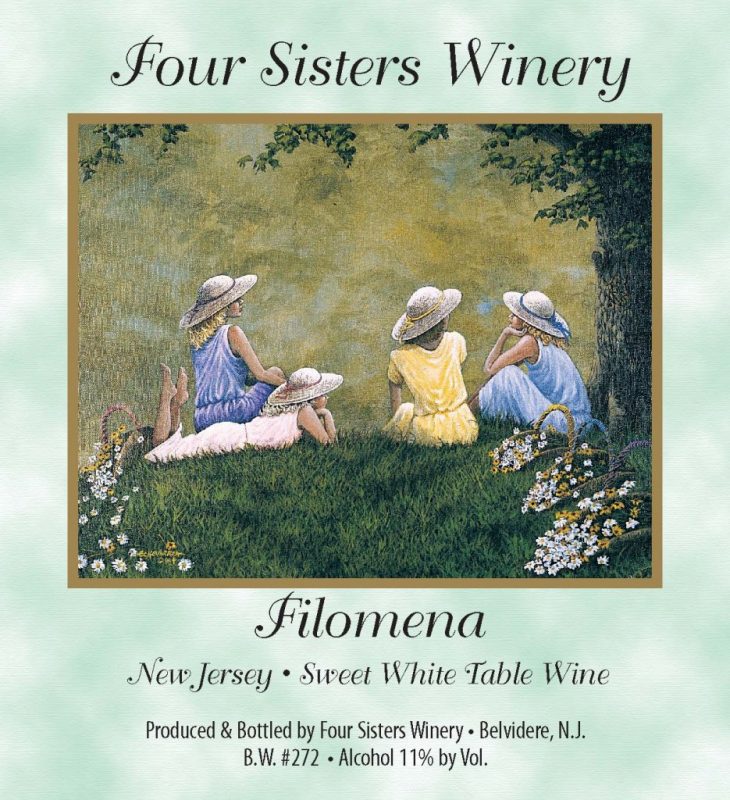 Four Sisters Winery
783 North Bridgeville Road, Belvidere
www.foursisterswinery.com
First opened in 1984, Four Sisters Winery is celebrating 35 years in winemaking,
Nestled in a valley in Warren County, it is part of an agricultural tradition carried on by Matty Matarazzo on his 250-acre farm. Four Sisters Winery has won more than 100 regional, national, and international awards for its red, white, rose, and fruit wines.
The winery is open six days a week from 10am to 6pm (closed Wednesday), with extended hours to 7pm on Friday with a Happy Hour with cheese and cracker plates or chips and salsa. Hours extend to 8pm on Saturday, with live music from 2 to 7pm. Wine tastings and free tours are offered on the weekends, and complimentary wine tastings are offered daily. Visitors can enjoy spending time in the Vineyard View Bistro, on the deck, at a picnic table on the grassy fields, or under a tent overlooking the vineyards.
Special events include Fall Harvest Weekends on the Farm every weekend in October from 11am to 5pm. Hallowine Weekend is October 26 and 27 from 12 to 5pm, with a costume parade, tractor-drawn hayrides, pick-your-own pumpkins, and more. Barefoot Grape Stomping events are scheduled for October 26, November 23, and December 21 from 4 to 7pm each day.
Fox Hollow Vineyards
939 Holmdel Road, Holmdel
www.foxhollowvineyards.com
Fox Hollow Vineyards, located on 94 acres in Holmdel, is owned and operated by the Casola Family, sixth generation farmers who diversified into vineyards and winemaking. The Casolas pride themselves on the cultivation of premium grapes, all hand-tended and harvested, and then crafted into their fine wines. It is a family operation, with different members of the family doing everything from planting, hoeing, and mowing to pruning, thinning, and operating all the equipment involved in the grape processing. Fox Hollow wines have received many medals and accolades in various competitions, including the New Jersey State Wine Competition.
Wine tastings are offered Thursday through Sunday from 11am to 6pm. A menu featuring meats and cheeses, paninis, and salads is also available. Fox Hollow features live music every Friday night from 6 to 9pm, including The Winery Catz on October 25, Jake's Rockin Country Band on November 1, Squarehead Trio on November 8, and Ronnie Brandt on November 15.
Terhune Orchards Vineyard and Winery
330 Cold Soil Road, Princeton
www.terhuneorchards.com/winery
Owned and operated by the Mount family, Terhune Orchards Vineyard and Winery features nine acres of grapes and 14 varieties of wine, including three fruit wines made from Terhune Orchards' own apple cider. The historic 150-year-old barn on the farm is home to the Tasting Room, which is open Friday through Sunday from noon to 5pm. Bottles are also available seven days a week at the farm store.
Terhune Orchards is one of the few operating farms in the Garden State to also have a winery and tasting room. People visiting the Tasting Room can also enjoy pick-your-own and farmyard activities as well as the farm store full of fresh fruits and vegetables, baked goods, and more.
Terhune features a plethora of fall activities including Apple Days Harvest Festivals continuing each weekend until October 27, at which the Apple Wine is a seasonal favorite. Pie Sampling Weekend in the Wine Barn is November 9 and 10 from 10am to 5pm with wine tastings available and all proceeds from the event to benefit HomeFront. Holiday Wine Trail Weekend is November 29, 30, and December 1.
Unionville Vineyards
9 Rocktown Road, Ringoes
www.unionvillevineyards.com
Unionville Vineyards rests on 89 acres of preserved farmland in Hunterdon County. The winery is comprised of five estate vineyards spread over three counties, allowing for unique wines to be crafted from fruit grown in the varying terroir of central and northern New Jersey. Winemakers Zeke Johnsen and Conor Quilty craft acid-driven, fruit-forward, aromatic wines, focusing on Burgundy and Rhone varieties such as Chardonnay, Syrah, Pinot Noir, and Viognier.
Its Tasting Room is open daily from 12 to 5pm, featuring walk-in tastings and reserved private and group tastings. Unionville's Tasting Room staff is comprised of wine enthusiasts who enjoy educating and talking wine with their visitors. The vineyard also hosts several food, wine, and music events each month, check the website for upcoming events. 
Ventimiglia Vineyard
101 Layton Road, Wantage
www.ventivines.com
Located on the 50-acre Rocky Ridge Farm in Sussex County, Ventimiglia Vineyard continues a family tradition of hand-crafted winemaking passed down for generations. Its wines are made in small batches with carefully selected, top quality grapes, using oak barrels with minimal chemical or mechanical intervention.
The vineyard's founder and winemaker, Gene Ventimiglia, was influenced at a young age by the European winemaking traditions which his grandfather, Eugenio Ventimiglia, brought to the U.S. at the turn of the 20th century. For over 30 years, Gene had been making delicious wines to enjoy at home with his family and friends. In 2006, Gene and his wife, Anne, along with their family and good friends, began professional winemaking at Ventimiglia Vineyard.
Ventimiglia Vineyard's wines include a Chardonnay, Pinot Noir, Buon Giorno, La Sorella, Rocky Ridge, Wantage White, and Chambourcin. Its Tasting Room is open Saturday and Sunday from 12 to 5pm, or by appointment for group outings.
Cheers!
Event dates and times subject to change. See websites for full details.