Far Hills Country Day School: Preparing Young Minds to Change the World
By Laurie Pellichero
Set on 54 acres in Far Hills, N.J., about an hour west of New York City, Far Hills Country Day School is a private, co-educational day school for students in pre-kindergarten through eighth grade.
The school was founded in 1929 on the principles of the Progressive Education Movement, and believes in a balanced approach to learning that includes solid academics paired with valuable life skills and character development. The school's "whole child" philosophy includes an emphasis on classroom personalization and differentiation. 
"At Far Hills, we focus on strength of mind and strength of character," says Head of School Tom Woelper. "We work to empower each learner, both where they are and where they need to be."
The core curriculum in reading, writing, languages, math, and science is designed and taught by dedicated specialists. A variety of active, engaging, hands-on teaching methods are combined to provide intimate, individualized, level-specific education that is designed to unlock each child's potential.
"The true Far Hills difference lies in identifying and embracing every opportunity to integrate relevant, experiential, character-forming lessons into each classroom and social interaction," says Woelper. "Apart from a strong focus on academic achievement, we strive to inspire resourcefulness, resilience, integrity, self-control, and other invaluable traits that lay the foundation for lifelong success."
Features of the Far Hills campus include learning gardens; computer labs; media centers; a state-of-the-art performing arts center; and a large athletics center with a climbing wall, outdoor fields, tennis courts, and a ropes challenge course. There are also meadows, ponds, and woodlands to enjoy and explore.
Multi-disciplinary learning programs such as STEAM (Science, Technology, Engineering, Arts, and Math) help develop important life skills such as creativity, teamwork, resilience, and time management. The Far Hills World Language Department offers students the opportunity to study Mandarin, Spanish, and/or Latin.
"We prepare students for success in the modern world," says Woelper. "We offer programs like 1-to-World and Robotics to prepare them for the world that will be, not the world that was."
Far Hills Country Day School also encourages and embraces all aspects of diversity. The staff believes that different backgrounds, perspectives, and ideas strengthen the learning experience for everyone in the community.
"We are committed to maintaining and enhancing an inclusive environment where we explore, understand, and value our shared experience and the unique characteristics and beliefs of every human being," says Woelper. "We seek to learn from and celebrate the differences within our community and around the world."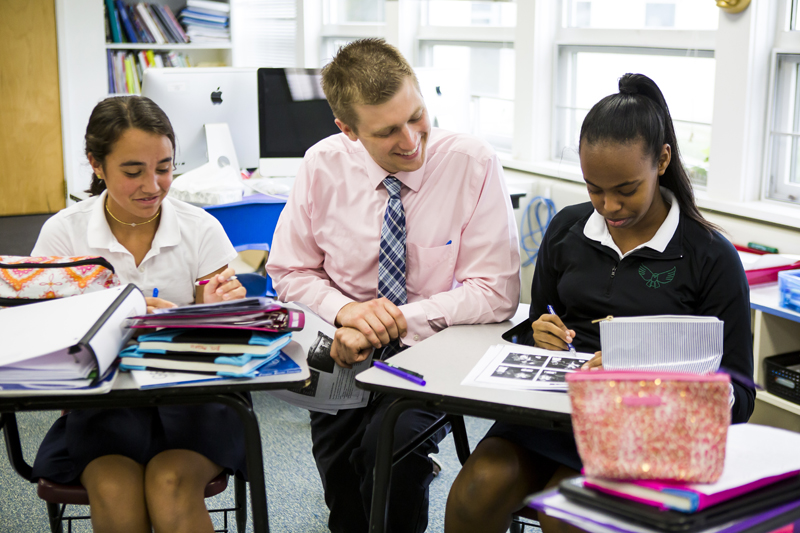 Woelper emphasized that the school has a family atmosphere, where the children are all known and loved.
"We like to preserve childhood for our kids," says Woelper, who added that the upper school students act as leaders for the younger students.
Woelper says that Far Hills has a strong secondary school placement record, with about 40 percent of the students going to on boarding schools and 60 percent to day schools.
"Our graduates to go the best boarding schools and best area day schools," he says. "We are proud of our secondary school placement."
The Far Hills Country Day School Alumni Hall of Honor includes mezzo-soprano Frederica von Stade '60; President and CEO of Forbes, Inc., Malcolm "Steve" Forbes Jr. '62; and Christine Todd Whitman '61, New Jersey's first elected female governor and head of the Environmental Protection Agency from 2001-2003.
The school also offers one-week Smart Fun Camps on campus for eight weeks each summer. The camps reflect the same philosophy as the school's classrooms, with small group sizes allowing for more attentive instruction, experiential learning, and lots of fun. Registration is now open for the next sessions, which run from June 18 through August 10.
For more about Far Hills Country Day School, call 908.766.0622 or visit the website at www.fhcds.org.