From Cutting-Edge Design to Savory New Eateries: Discover Downtown Somerville

From Vision to Reality at Design Studio of Somerville
Whether you are updating a single room, decorating an entire home, or simply looking for unique gifts and stylish accessories, Design Studio of Somerville (DSOS) is your full-service design firm and retail boutique destination. The 3,000-square-foot design showroom and luxury home shop are filled with a well curated, eclectic mix of décor and furniture, bringing a jolt of high energy style to the center of Somerville. 
With almost 30 years of experience and a broad range of style perspectives, owner Tom Sfisco and the DSOS design pros bring your visions to life, and strive to make the design process an enjoyable one. Your inspiration, combined with their design expertise, results in a home that you will love to live in.
The Design Studio of Somerville flagship store is located at 67 W. Main Street in Downtown Somerville; www.dsosdesign.com. Whatever your needs or budget, they invite you to talk with them about the possibilities that await you.
New Eateries Heat Up Downtown Somerville Dining Scene
The Salad House, a fast-casual restaurant specializing in fresh customized and signature salads, is just one of several new eateries and cafes that have recently opened downtown, with several more slated to open soon—including Somerset County's first brewpub.
"Downtown Somerville has certainly earned its reputation as a foodie destination, with more than 45 popular restaurants and eateries to please every palate," said Beth Anne MacDonald, executive director of the Downtown Somerville Alliance. "You can eat your way around the world here from Greek, Asian, Cuban, New American, French-inspired, Italian, Irish, and more, but this year is particularly exciting because we've got several new concept restaurants and cafes that will add some new flavor to the downtown."
The Salad House joins several newly-opened restaurants in the downtown area including Kuay Tiew Noodles and More, serving authentic cuisine; and Fresh Tiki Bar, a café and juice bar specializing in smoothy bowls, fresh fruit smoothies, juices, and more. Kuay Tiew opened in late 2017, and its signature noodle, soup, and rice dishes are garnering rave reviews.
Slated to open this spring are the Village Brewing Company, Somerset County's first brewpub, serving its own micro brews and progressive American cuisine; and Grumpy Bobas, a bubble tea café, offering premium customizable fruit and milk teas using whole and organic ingredients whenever possible. "We're so excited to bring our one-of-a-kind bubble teas to Somerville," said Grumpy Bobas owner Yanshu Liu. "Somerville is such an eclectic downtown, with so many small, independent businesses offering unique products and experiences. We think we'll fit right in."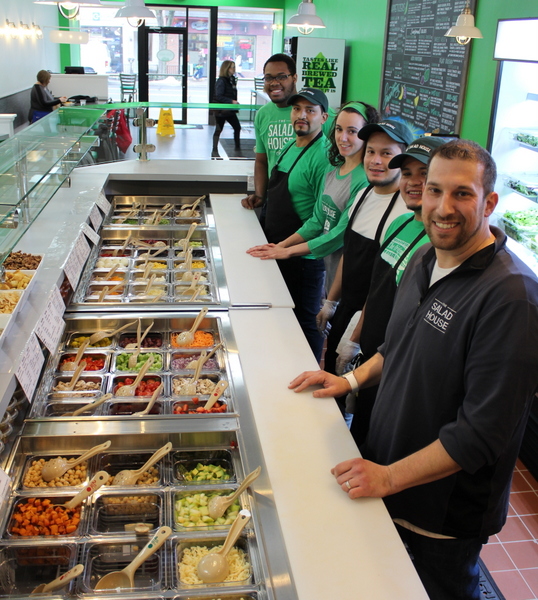 Downtown Somerville's New Restaurants and Cafes: 
The Salad House, 58 West Main Street; www.thesaladhouse.com
Kuay Tiew Noodles and More, 42 West Main Street; www.ktsomerville.com
Fresh Tiki Bar, 15C Division Street; www.facebook.com/FreshTikiBar
Village Brewing Company, 34 West Main Street; www.villagebrewing.com
Grumpy Bobas, 72 West Main Street; www.facebook.com/grumpybobas