"Good Fences Make Good Neighbors" on View through February 11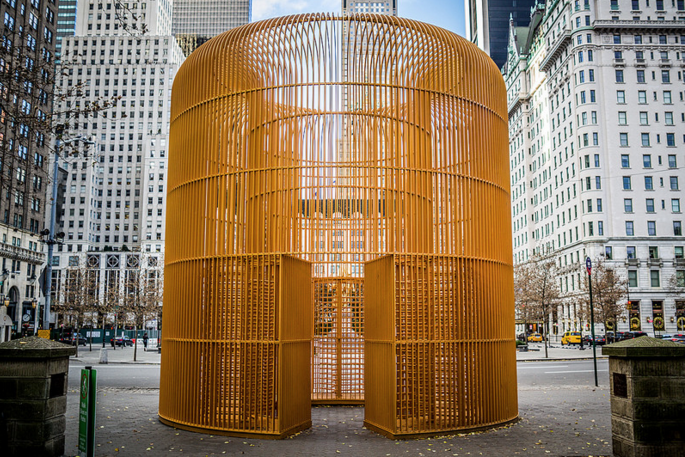 The "Gilded Cage" at the 60th Street and 5th Avenue entrance to Central Park is one of the major installations in Ai Weiwei's "Good Fences Make Good Neighbors." (Photo by Phil Roeder, via Flickr)
By Doug Wallack
Acclaimed artist and Chinese dissident Ai Weiwei unveiled a multi-site, multi-media project entitled "Good Fences Make Good Neighbors" this fall, in conjunction with the Public Art Fund. The work — which consists of 300 site-specific pieces scattered throughout the five boroughs of New York City — explores the issues of resurgent nationalism and populism that have been the subjects of so much public debate this year, playing on the central visual motif of the border fence.
Throughout New York, Ai and his team have installed hundreds of portraits of refugees (both current and historical), cage-like additions to bus stops, and several large-scale sculptural pieces. Ai unveiled "Good Fences Make Good Neighbors" in concert with his documentary Human Flow, released this fall, which examines the current global refugee crisis, following displaced citizens of Afghanistan, Bangladesh, France, Greece, Germany, Iraq, Israel, Italy, Kenya, Mexico, Turkey, and a dozen other countries as they navigate refugee camps, border crossings, and the many other trials of exile.
"Good Fences Make Good Neighbors" will be up through February 11, 2018. For more information, and for an interactive map of the installations, click here. For more information on Human Flow, including a link to purchase tickets for a January 3 screening at BAM Rose Cinemas in Brooklyn, click here.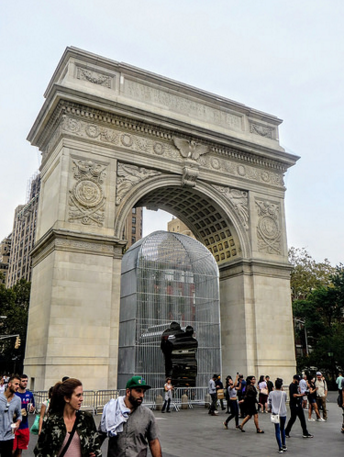 An installation at Washington Square Park. (Photo by Eden, Janine and Jim, via Flickr)