Gingerbread Wonderland and Craft Show, Frelinghuysen Arboretum
Jack Frost is in the air, and the "most wonderful time of the year" is about to begin…
Mark your calendar for these festive New Jersey events that celebrate the season:
By Laurie Pellichero
November 19 (Ongoing)
Hope for the Holidays
Monmouth Museum, Brookdale Community College Campus, 765 Newman Springs Road, Lincroft
The Monmouth Museum's annual juried art exhibition, Hope for the Holidays, is featured through December 31, along with its popular model train display and Artisans Holiday Gift Gallery. A Hope for Holidays Kids Edition is in the Hallway Gallery, and Steve the Magician will put on a Winter Wonderland Magic Show on December 2 at noon. The Monmouth Museum is open Tuesday through Saturday from 10am-5pm, Sunday 12-5pm, and Friday 10am-9pm.
November 24-26
Dickens' Days
Downtown Clinton; Various times
Sponsored by the Clinton Guild, Dickens' Days is an annual event that transforms Clinton into a Victorian Village. Visitors can interact with Scrooge, Charles Dickens, and Father Christmas as they stroll through downtown Clinton entertaining shoppers. The town will be decorated for the holidays, with toy soldiers on the famous Clinton Bridge, holiday greens, and twinkling lights. Horse drawn carriage rides offer a glimpse into the past. There will also be musical performances by local artists and music groups throughout the weekend. The Community Tree Lighting will be held on Main Street on Friday, November 24 at 6:30pm, with music by the United Methodist Church Choir and a visit from Santa.
November 24-26 (Ongoing)
Welcome Home to Westfield 
Downtown Westfield; Various Times
Thanksgiving weekend brings the start of holiday events in downtown Westfield with photos with Santa and Mrs. Claus on November 24-26 at Lord & Taylor on Friday and Saturday from 1–7pm and Sunday 1-4pm. The Annual Tree Lighting will take place Sunday, November 26 at 5:30PM at the North Avenue West Train Station, with entertainment provided by The Westfield Community Band. The Annual Menorah Lighting Ceremony take place at the North Avenue Train Station, sponsored by the Union County Torah Center. There will also be family entertainment during the holidays in December, mostly on Thursdays, Saturdays, and Sundays. The roaming musical entertainment has been a Westfield tradition for decades and includes Yuletide Carolers, Watson Highlanders Bagpipe Band, NJ Workshop for the Arts Alphorns and Brass Quintet, and the Harmonics Quartet.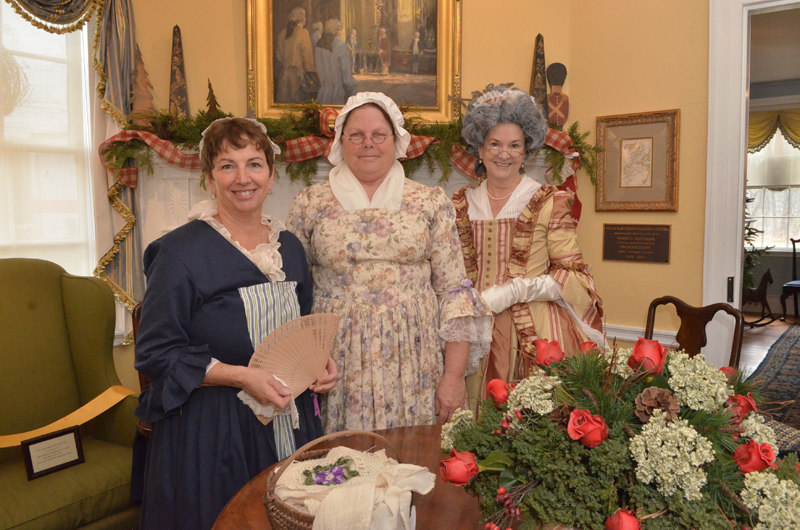 Photo by Debbie Weisman
November 25
15th Annual Colonial Christmas (Recurring)
Jacobus Vanderveer House and Museum, 3055 River Road, Bedminster; 10am-4pm
Experience a Colonial Christmas at the 1772 Jacobus Vanderveer homestead. This annual two weekend-long celebration of the holidays features festive music, period decorations, reenactors, holiday shopping, a Colonial Cafe, visits from Santa and reindeer, pet photos with Santa Paws, gingerbread and holiday decorating workshops, and more. Also on November 26, December 2, and December 3.
November 25
Holiday Jubilee
Division and Main Streets, Somerville; 5pm
The annual Holiday Jubilee in downtown Somerville features a variety of festivities including entertainment on the Division Street Stage from the Van Derveer Chorus, Somerville School of Rock, and Triangle Dance School. Santa will arrive about 5:30pm, followed by the tree lighting Division Street. The event also includes horse-drawn carriage rides along Main Street, photos with Santa, carolers, seasonal treats, and surprises.
November 25
Jul Dans: A Scandinavian Christmas Celebration
Viking Hall, Vasa Park, Budd Lake; 5pm
The 20th annual celebration features all-night dancing around the Christmas tree with music provided by Jeanne Widman Anderson and Smorgasbandet with Walter Eriksson Jr., on nyckelharpa. There will also be a ham dinner, Swedish meatballs and other traditional Scandinavian specialties. Activities include a candle-lit ceremony and pageant of Sankta Lucia, along with a visit from Santa.
December 1-January 7
Feasting with Family & Friends: Christmas in the Ballantine House
Newark Museum, 49 Washington Street, Newark; Wednesday-Sunday at 2pm
The Newark Museum's National Historic Landmark, the 1885 Ballantine House, offers visitors a taste of how Christmas was celebrated in the Victorian age, as English, German, and Dutch holiday traditions merged into something not so very different from the way the holiday is celebrated in America today. This historically-accurate installation lets visitors step back in time to learn about 19th-century life and traditions.
December 1-10
Gingerbread Wonderland and Craft Show
Frelinghuysen Arboretum, 353 Hanover Avenue, Morris Township; 10am-4:30pm daily, Fridays until 7:30pm
Now in its 26th year, Gingerbread Wonderland is a charming exhibit of hundreds of carefully-crafted, edible structures. Past years' gingerbread models have included Notre Dame Cathedral, Hanukkah menorahs, Japanese temples, Chinese pagodas, and a European castle. A Holiday Craft Show will be held on the weekends during the Gingerbread Wonderland exhibit, featuring handmade items from local crafters.
December 2-3
Holly Walk
Several venues, Morris County; 11am-4pm
A Morris County tradition, Holly Walk offers the opportunity to visit six historic sites decorated for the holidays. Visit all six during the course of the weekend, in any order you choose, with one ticket. Stops include the Morris County Historical Society at Acorn Hall, The Ford Mansion at Morristown National Historical Park, The Schuyler-Hamilton House, Macculloch Hall Historical Museum, The Stickley Museum at Craftsman Farms, and The Museum of Early Trades & Crafts. Tickets are available at www.eventbrite.com.
December 2-29
40th Annual Festival of Trees
Environmental Education Center, 190 Lord Stirling Road, Basking Ridge; 9am-4:30pm
Get into the holiday spirit with The Festival of Trees, an indoor exhibit of decorated trees by various community groups and individuals. Enjoy live holiday music on select Saturdays and Sundays, and tasty treats in the Snowflake Café on all Saturdays and Sundays.
December 3
Snowflake Parade and Family Fun Festival
Millburn Avenue between Holmes and Spring Streets, Milburn; 1:30-4:30pm
This year's Snowflake Parade will feature marching bands, clowns, costumed characters, the Wells Fargo Horse and Carriage and Investors Bank Train. There will also be refreshments after the parade, complimentary photo ops with Santa, and musical entertainment.
Photo by Emily T. Schindler
December 7
25th Annual Holiday House Tour
Various locations, Summit; 9:30am – 2:30pm
The Reeves-Reed Arboretum Holiday House Tour has grown to become one of the premier holiday events in the area, offering a fun and entertaining way to spend a day viewing beautiful homes in Summit that are festively decorated for the season. The tour includes a stop at the Wisner House Holiday Boutique, where shoppers can choose from curated, one-of-a-kind gifts and holiday wreaths and greens created by the Arboretum's horticultural staff. Holiday Boutique hours are 9am–4pm and 5pm–8pm.