History is Holly Fowler's Muse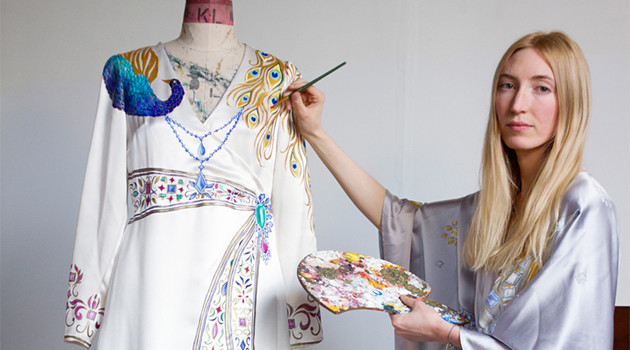 By Taylor Smith
Photos Courtesy of Holly Fowler
It was at Saint Martins that Holly began modeling and succumbed to the influence of fashion. "Everyday there would be toiles and fittings outside the painting studios," Fowler remembers. "The school was so small! It was like an old house on Charing Cross Lane that I couldn't help but be influenced by all of the student clothes and art around me."
With a background in painting, Fowler spent a lot of time creating textiles from thick cotton canvas—often the kind used for scenery drapes and West End theatre productions. For her thesis collection, she created a fashion line of wearable art on canvas.
She studied the jewelry collections of Wallis Simpson along with pieces by Cartier, Bulgari, and Bucellati. Such items were then painted trompe l'oeil onto the canvas. "When the dress is worn by a woman, I want the painting to come to life, so that when she walks, the necklaces and charms move and sway with her," she says.
In contrast to her paintings, many of Fowler's dresses are simple in cut and shape. They often hang like robes, inspired by the fashions of the Pre-Raphaelite movement.
Upon graduating from Saint Martins, Fowler's senior collection was bought by Browns in London. Browns helped the young designer to translate her gowns from canvas into silk. Her work was then picked-up by Bergdorf Goodman in New York City, DNA in Qatar, and Moda Operandi.
"All of these stores have been incredibly supportive of my work and the nature of the painting process. I work with them on a made-to-order basis, so that each item is completely unique and original to the wearer."
Fowler shared her creative process with Urban Agenda Magazine.
UA: How and when did you begin treating the silhouette as a canvas?
HF: I started treating the silhouette as a canvas when I realized how much freedom is created by painting on the garment itself. It was when I was still at Saint Martins. I loved painting and it just felt like a natural progression to wear my art.
UA: What did your first collection for Browns in London consist of?
HF: It consisted of my graduate collection translated into a range of silk and leather pieces with hand painted designs all over them. Today, all of my designs are dry cleanable, but this first collection actually wasn't dry cleanable and yet it still sold out!
UA: Describe the pieces that are carried by Bergdorf Goodman in New York.
HF: With Bergdorfs, I now only work on a made-toorder basis. Clients come to Bergdorf and I meet with them and often with their stylist and we discuss what design, style and painting they would like and move forward from there. They are able to choose from my existing designs, take elements from several existing designs and place them into one gown or I can create a bespoke design for them.
UA: All of your works are done free hand. Are the dresses one of a kind? Can they be made to order?
HF: Often ladies love to have their own jewelry or their grandmother's jewelry painted on a dress. All of my pieces are one of a kind, because they are all painted by me. Each dress is completely individual and unique, just as any painting is completely individual and unique; each has its own mood and its own atmosphere. My collection of designs can be made to order in standard US and UK sizes. The beauty of the painting means that you're able to add to or change elements of the design as you like, creating a very personal touch. Also, the base color of the fabric can be changed, along with the colors of the painting.
UA: How long does it take you to complete one dress?
HF: It depends on the design. Some gowns can take up to 250 to 300 hours to paint. The simpler designs can take anywhere from 15 to 20 hours.
UA: What kinds of fabrics do you like to paint on?
HF: I like to paint on silk mainly—silk crepe, duchess satin, and charmeuse. I also love to paint on suede and leather. These fabrics all hold the paint really well and create a good base for my designs. They also fit and flow for the style of my dresses.
UA: Can the dresses be washed or cleaned?
HF: There are a few bespoke dresses that are exempt from this rule, but generally all of the dresses can be dry-cleaned.
UA: What types of accessories do you create?
HF: I do not create any accessories, but I do paint on accessories. I have just started painting on Hermes Birkin Bags, sold exclusively through Moda Operandi. I also paint on clients' shoes and leather jackets. I am open to painting on other accessories, as well.
UA: Where is your studio?
HF: I am based in Greenpoint, Brooklyn.
UA: What is your artistic process? How do your designs begin?
HF: My designs can begin and be inspired from anywhere. I love jewelry and painting and stories. I am very inspired by the stories of the Maharajas, Tsars, Kings and Queens. I love the fantasy and adornment of bygone eras.
UA: Who is Pamela and in what ways does she inspire your creations?
HF: Princess Pamela is my muse. She is a character based on my Grandmother as a young woman and she has adventures in my painted dresses! I draw illustrations of her and drawings to develop my designs. I always think about what she would get up to in one of my pieces!
UA: You have worked for Louis Vuitton, Zac Posen, Diane von Furstenberg, Chloe, and John Galliano. Do you freelance or consult with other clients?
HF: Yes, I continue to consult for clients although my work is now predominantly painting and designing my gowns and pieces.
UA: What can we expect from your next collection?
HF: My next collection of pieces is going to be a series of silk scarves (twelve one-of-a-kind, hand painted designs) and I am going to frame them. Each one will represent a different zodiac sign. I am so excited for this series! I cannot wait to present them. They are golden and full of light and tell the story of the symbolism of each star sign.