Hotel des Artistes: New York's Original Art District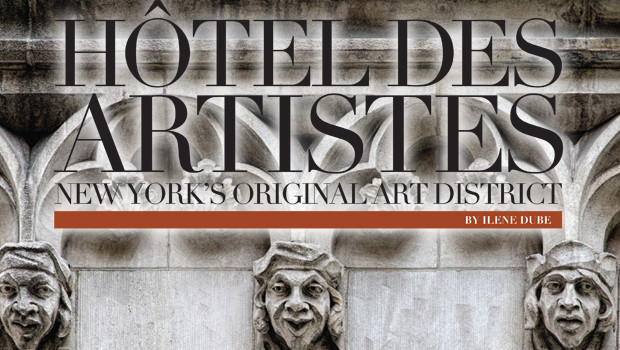 By Ilene Dube
George Washington may not have slept here, but Noel Coward, Rudolph Valentino, Norman Rockwell and Isadora Duncan once called Hôtel des Artistes home. Despite its name, the Gothicstyle building at 1 West 67th Street was never a hotel. Today a luxury coop, the 18-story building was designed for artists by architect George Mort Pollard in 1917 with studios and doubleheight windows. Gargoyles of painters, sculptors and writers on the façade remind us of Hôtel des Artistes' original occupants.
Many of its features—double-story ateliers, soaring 19 foot windows, a swimming pool, workout rooms, a squash court as well as a high-walled roof garden—date to its origins on Artists Row, so named for the other ateliers and studios built for artists and musicians on this tree-lined block just off Central Park. In addition to the Hôtel des Artistes, the West 67th Street Artists' Colony Historic District—listed on the National Register of Historic Place—includes seven other buildings erected at the turn of the 20th century and represents the only significant concentration of artists' studio apartments in Manhattan.
Architecture critic Paul Goldberger describes this enclave of early-20thcentury apartment buildings as a place like no other, "a self-contained village" on a single New York block.
Hôtel des Artistes is the most prominent of the eight buildings and remains the largest of the studio/apartment buildings. Residents of today's Artists' Colony Historic District include actors, artists, restaurateurs, art collectors, museum professionals and hedge fund managers.
BURGEONING ARTISTIC LIFE
By the mid-19th century New York had become the artistic center of the United States. Artists flocked to Manhattan to study and work, but as the city grew it became more and more difficult for artists to find suitable studios. Few buildings were designed with space appropriate for painting and the display of art, and the increasing height of new buildings blocked light from established studios. Soaring real estate values led to rents beyond the means of many artists, who needed tall spaces and northern light. By the early 1900s, it was common for substandard rooms to be placarded with the sign "Studio to Let."
Landscape painter Henry W. Ranger set out to change that. His plan for a studio building evolved as a response to his own living and working conditions. He had rented an apartment for $2,000 a year, but unable to work in this space, had to rent a separate studio for another $700 a year. Yet both spaces were inadequate for the exhibition of his paintings and he needed still a third site for display.
Almost two decades before Pollard designed the Hôtel des Artistes, Ranger devised the layout for the studio apartment building known as the Sixty-Seventh Street Studios and interested a group of fellow artists to invest.
These were not the struggling avant-garde painters who flocked to Greenwich Village or the Latin Quarter of Paris—unlike the artists of Puccini's La Boheme, they didn't have to burn the pages of a manuscript to heat a crumbling garret. Rather, the 67th Street artists were successful, if conservative, portrait painters or illustrators whose patrons were New York's elite. Among the artists Ranger persuaded to build the high-rise studio coop were Childe Hassam, Frank Dumond and Walter Russell.
Under Ranger's direction, a block of West 67th Street in New York was selected to establish a building with studio apartments with ample space and good natural light. The street was conveniently located near the elevated railroad, close to museums and galleries, and Central Park, where families with small children could play outdoors.
In 1901 West 67th Street was a ragged block of stables, a mill, a warehouse and vacant lots, but it backed up to the row houses of West 68th Street, where tall buildings were prohibited, assuring the availability of northern exposure.
Completed in 1905, the Sixty-Seventh Street Studios is distinguished by its Gothic limestone facade, as well as its elegant lobby that showcases high ceilings, ornate wooden architectural details as well as intricate lobby murals created by Robert V.V. Sewell. The legacy of the building's past is evoked in these murals listed on the National Register—we can hear echoes of composers at the piano, see the ghosts of writers at their desks.
A recent listing advertised "Rare opportunity to possess a true artist's home. Be the first to transform this sophisticated blank canvas into your own personal work of art. This special one-bedroom apartment exudes pre-war charm throughout the many original architectural details. The residence features a spacious and grand entry foyer, vaulted and beamed ceilings, oversized windows with north and west exposures as well as decorative floor moldings and solid wood doors. The building offers 24-hour doorman service, a live-in super, and a beautifully landscaped and well-maintained roof-top garden with views of Central Park."
Other buildings followed, and in 1915, the artist Penrhyn Stanslaws started a syndicate to build the largest coop on the street, Hôtel des Artistes, with a more ornate interior and exterior spaces than the earlier buildings. The lobby has medieval woodwork, plaster panels, iron decoration and a mural of Dutch ships in Colonial New Amsterdam's harbor.
Hôtel des Artistes at No. 1, considered the cornerstone of the district attracted James Montgomery Flagg (who designed the World War I "Uncle Sam Wants You" poster), novelist Fannie Hurst and other writers and artists. They could purchase a four-bedroom unit for $18,000 to $30,000, with maintenance of $150 to $200 a month.
Meals were cooked in a community kitchen and sent to rooms in service elevators, or tenants could prepare food in their rooms and send it to the kitchen to be cooked (rooms were originally built without kitchens). The food service was built into the cost of operations. A ballroom, swimming pool and squash courts, as well as a rooftop playground, were part of the amenities. With 100 suites, some had south-facing windows, unsuitable for artists, but coop units were becoming increasingly desirable for those who wanted to live in an artistic environment, and have space for entertaining and display of art collections.
By 1920, residents included 14 artists, musicians or writers, 11 actors or movie executives, and 22 stockbrokers, engineers, and other business people. Household servants numbered 26.
Other notable residents over the years have included Alexander Woollcott (New Yorker critic, one of the Algonquin Round Table and inspiration for Sheridan Whiteside, the main character in The Man Who Came to Dinner, by George S. Kaufman and Moss Hart); actors William Powell, Debbie Reynolds and Joel Grey; former New York Gov. Hugh Cary; director Mike Nichols; and former New York City Mayor John V. Lindsay. George Balanchine and Marsha Mason lived at No. 27.
The block between Central Park and Columbus Avenue became a hub for creative people, and continued to build this way for 30 years. Most of the buildings maintained architectural consistency with Ranger's original apartments.
FROM DUCHAMP TO VALENTINO
One was dubbed the Musician's Building with 60 soundproof apartments large enough to accommodate a grand piano. Made of brick and terracotta, it has the look of an Elizabethan manor house expanded to apartment house scale.
Almost all of the buildings in the historic district have limestone bases with dark brick above, and 33 West 67th Street—officially known as the Atelier—is no different. The Atelier is considered the bastion of gothic building in the Artists' Historic District, and is faced with brick laid in Flemish bond with random burned headers. The limestone base has a projecting vestibule with extremely ornate Gothic floral ornament that is enlivened by carved human heads, animals and birds. The top level resembles a romantic medieval castle gate and is detailed with Gothic pointed arches, panels, foliate bands and corbels. Dadaist and Surrealist artist Marcel Duchamp lived in the Atelier from 1915 to 1921.
In 1922 Rudolph Valentino—Italian silent cinema heartthrob, a.k.a. the Latin Lover, rented a bachelor pad at Hôtel des Artistes. In fact he was no bachelor and was married to both Natacha Rambova and Jean Acker. Awaiting divorce from Acker, a lesbian who regretted the marriage before her wedding night, Valentino was charged with bigamy in California and moved to New York with Rambova, who lived with an aunt on the same block of West 67th Street until they could be married legally.
NAUGHTY MURALS
Residents of Hôtel des Artistes today enjoy its many amenities, including dining at Gianfranco and Paula Sorrentino's restaurant, the Leopard at des Artistes, where the walls display the murals of frolicking nudes painted by Howard Chandler Christy.
An illustrator and portrait painter who had a studio in Hôtel des Artistes and taught at Cooper Union, the Chase School, the New York School of Art and Art Students League, Christy completed the murals in 1935. There are nine oil-on-canvas murals of subjects such as wood nymphs, Tarzan and his mate, Ponce De Leon and the Fountain of Youth, "The Parrot Girl" and "The Swing Girls."
Formerly Cafe des Artistes, the restaurant is in the kitchen that once provided meals for the original tenants. In 1975, restaurateur George Lang took the helm of Café des Artistes and it became a home away from home for many, including journalists at ABC News, whose studios were across the street.
Lang rose from dishwasher and saucier to one of the most important figures in the restaurant world. A Hungarian refugee and Holocaust survivor, Lang, who practiced on his violin obsessively, was sent to a forced labor camp in 1944. Upon gaining his freedom and learning that both his parents were killed at Auschwitz, Lang came to the U.S., ultimately becoming known as the Gastronomic Impresario for having opened 200 restaurants in 18 countries. According to Molly O'Neill in The New York Times, Lang claimed to have invented the line "Hello my name is Bruce and I'll be your server tonight."
He went on to transform Café des Artistes into one of New York's most legendary restaurants, an enduring hit with performers at nearby Lincoln Center. It was the place to spot actors, politicians and New York high society.
Lang closed the restaurant in 2009, and in 2011 it re-opened as the Leopard at des Artistes.
The excitement continues. The new owners have "transformed what was a dark and queasily romantic space," writes Sam Sifton in The New York Times. "Extensive cleaning has removed the nicotine lingerie that clad the bodies of the cavorting nymphs on the old Howard Chandler Christy murals that surround the room, revealing copious nubile flesh and shining white teeth."