The Seeing Eye, headquartered in Morristown, New Jersey, is changing people's view of the world. 
By Sarah Emily Gilbert 
Photographs courtesy of The Seeing Eye
Meet Teddy, a five-year-old chocolate golden Labrador. Like most dogs, he loves to run around, greet people, play with fellow pooches, and chew on his bones, but Teddy is far from ordinary; he is a Seeing Eye dog. Teddy has been guiding his owner Jonathan Goodman since December 3, 2014, and in that role, he is more than man's best friend, he's his teammate. Each day, Goodman harnesses up Teddy and the handsome duo embarks on the world. While at work, Teddy displays his impressive skillset such as detecting potholes, finding elevators, and avoiding a car that's run a stop sign. Simply put by Goodman, "Teddy is a rock star." Indeed, Teddy is an extraordinary dog, but his rock star status didn't happen overnight. His abilities are the result of round-the-clock training, dedication, and love that started the day he was born at The Seeing Eye breeding facility. Teddy and Goodman are one of over 16,000 partnerships between individuals and dogs formed since The Seeing Eye's incorporation in 1929.
For almost 90 years, The Seeing Eye has bred and trained German shepherds, Labrador retrievers, golden retrievers, and Labrador/golden crosses to help their blind masters be more independent. As the oldest guide dog school in the world, The Seeing Eye has a reputation of excellence that draws visually impaired students as young as 16 from across the United States and Canada to its Washington Valley headquarters. The 60-acre campus in the heart of Morristown, becomes the temporary home of both the dogs and students in training. Renovated in 2013, the impressive structure houses administrative offices, student residences, and kennels where approximately 250 dogs reside at any given time. For at least four months, the dogs work with a sighted instructor before a cohort of future owners arrives thirteen times a year. For 18 to 25 days, the students and dogs train together before being paired off and sent to their new home.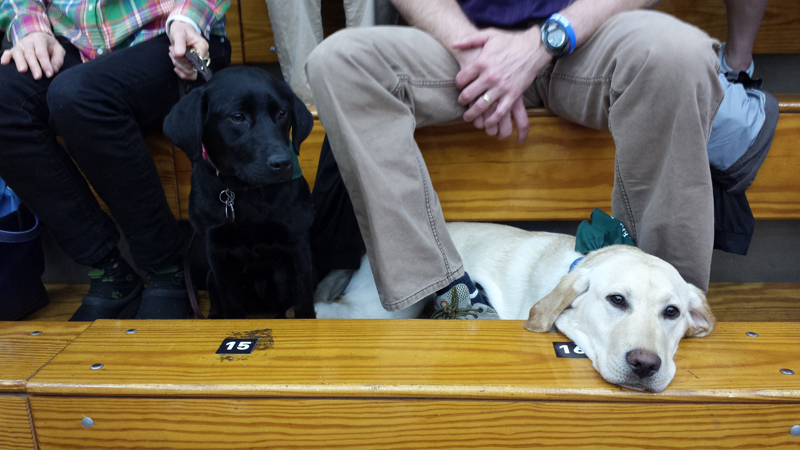 Pups at a Princeton University basketball game.
More Than a Buddy
On the Morristown Green, a 2.65-acre park at the center of town, you'll find a statue of The Seeing Eye's founder, Morris Frank, and his German shepherd, Buddy. As guide dogs in training lead their instructors past the life-sized statue, the townspeople are reminded of the integral role of the organization in the community, as well as its rich history. The roots of the organization date back to 1927, when Frank's father read him a newspaper article about German shepherds being trained to guide blinded WWI veterans at a school in Switzerland. Having lost his eyesight in two separate childhood accidents, a then 19-year-old Frank was becoming increasingly disgruntled by his hampered independence. The thought of replacing his less than dependable human guide for a loyal canine was motivation enough to leave his home state of Tennessee for a trip abroad.
For a year, Frank worked with the school's founder, Dorothy Harrison Eustis, a wealthy American trainer residing in Switzerland, and in 1928, he returned to the United States with Buddy. Upon their return, Frank and his new guide dog were met by a sea of skeptical news reporters daring them to cross a busy intersection in New York City. As onlookers held their breath, Buddy confidently led Frank across the street, a historic moment that was captured in a famous photograph. This public display marked the country's slow acceptance of guide dogs, which encouraged Eustis and Frank to co-found The Seeing Eye in Nashville, Tennessee on January 29, 1929. In 1931, the organization was relocated to Whippany, New Jersey, before settling in Morristown in 1965.
Puppies, Puppies, Puppies
Like Buddy, today's Seeing Eye dogs are part of a lifelong journey that begins on the 330-acre breeding station in Chester, New Jersey, where the Seeing Eye breeds around 60 adult dogs selected by a geneticist for their temperament, trainability, and health. As a result, thousands of highly-coachable and affectionate pups become promising Seeing Eye candidates. At eight weeks old, the puppies are ready for the next phase of the journey, a foster home. For their first year of life, the dogs live with a volunteer puppy raiser, an individual who becomes integral to the dog's training and development.
"These people teach the dogs their basic obedience and socialize them to different experiences," explains Master Instructor at The Seeing Eye, Brian McKenna. "The puppy raisers are an important part of the process because, although the instructors do amazing things with our dogs, they couldn't do it without the puppy raisers. The dogs are too young and small to be a successful guide, and they need that year to grow, mature, and learn."
Among the 450 generous raisers are Kate and Bob Denby of Skillman. The couple has been involved with The Seeing Eye for fourteen years and has raised several puppies through the organization. Lucky number seven is Dauntless or "Dawn," a female Labrador retriever that arrived on the Denby's doorstep in December 2016 at seven weeks old. "Dauntless's unusual name was selected by a Seeing Eye donor who no doubt gave the privilege of naming a puppy to a fan of the Divergent series," says Kate, who learned about the program through a teaching colleague that would bring her puppy to class. "One of the five factions is Dauntless, whose defining traits are described in Wikipedia as courageous and brave. It's no coincidence that The Seeing Eye gave our puppy this name. She is truly dauntless—confident and fearless—nothing phases this little girl!"
Although Kate is retired, raising a puppy is like a fulltime job, especially during the first few months. Still, many of her fellow volunteers work, often with their puppies in tow. One of these individuals commutes on the train to New York City each day; another works in an office in Princeton while her puppy sleeps under her desk. The Denbys know these people through the Mercer County Seeing Eye Puppy Raiser Club, which meets once a month at a local high school. All volunteers are required to join their regional club and attend regular trainings, meetings, and socialization outings. Members of the Mercer County Club often meet-up for group puppy walks, and many local stores in Princeton are happy to welcome the dogs. Like Kate and Bob, several members are experienced raisers and dog trainers who are willing to assist others with the rigorous, yet rewarding process. The Seeing Eye puppy development staff and area coordinator are also available 24/7 to support the volunteers.
The role of a puppy raiser is bittersweet because it is temporary. Like all of the puppies, Dawn will return to The Seeing Eye when she is about a year old to resume her training, and hopefully, be matched with a blind master. Although it's painful to watch the family pup get loaded into the pick-up van for its life as a guide dog, the puppy raisers know it's for a worthy cause.
"Personally, the way I cope is to remember a heartfelt speech I heard many years ago by a college student who recounted her experience attending college as a freshman with her first guide dog," recalls Kate. "She thanked all of us puppy raisers for helping to change her life and the lives of other blind men and women. However, the best way to cope for many puppy raisers is to get another puppy!" Kate is also motivated by the satisfaction she receives from hearing of her former puppies' successes as guide dogs. One of them is living with a retired man who plans to hike the Appalachian Trail with his dog. "When I think of all the long walks I took his dog on as a puppy, it warms my heart to think of him alongside his new owner, guiding him in the great outdoors," says Kate.
Yvonne Quinn (left) and Kate Denby with their dogs at Princeton Shopping Center.
Matchmakers
Once Dawn and the other puppies are at the Morristown campus, they are matched with instructors for their formal guide training. Brian McKenna explains that the instructors teach a dog each facet of their job by showing them what they want, and praising the dog for doing it. These repeated actions soon become learned behaviors. However, it's The Seeing Eye dogs' ability to ignore commands that make them extraordinary. "We strategically place the dogs in positions where they cannot obey a given command, and we praise them for ignoring the said command," McKenna explains. "In time, they learn this skill, which we call intelligent disobedience because they are intelligently disobeying a command. Examples of this would be disobeying a command to guide towards the platform edge at a train station, or into a steady stream of traffic."
This difficult craft is hard to master, and 40 percent of the dogs are unable to complete the training. In this case, they often go on to work in law enforcement, search and rescue, or similar professions. The dogs can also become their puppy raiser's family pet. Those that meet the challenge go on to work with the blind students who temporarily reside on campus for four weeks to learn how to adjust to life with their guide dog. The pairing off of handlers and dogs is an extensive process spearheaded by the instructors. They interview each student to understand their individual needs, including their activity level, what kind of area they live in, and what they do for work. They also go on a "Juno walk," where the instructor holds on to one end of the harness and guides the student as they hold on to the other end. By simulating the role of the Seeing Eye dog, the instructors can evaluate the students' walking pace and the strength of pull they're comfortable following. The instructor considers all these variables in order to select the best-suited dog for each student—a crucial moment in the training process.
"We attempt to make the most perfect match we can for each individual student," says McKenna. "The perfect dog for one person is not perfect for another. The bond between the dog and student is not immediate. It takes time, respect, and patience for the two to become a team."
The students spend as much time as possible with their new Seeing Eye dog. Several times a day they go on trips throughout Morristown and take rides on busses and trains. Towards the end of their stay, the pairs head to New York City, just like Frank Morris and Buddy.
"[While still on campus,] we learn to brush the dogs, clean their teeth and ears, and feed and clean up after them. All of this is so important because the dogs learn to love and depend on us as much as we do on them," explains Goodman, who's undergone instruction on the Morristown campus with all four of his guide dogs. Goodman agrees that the adjustment to the dog takes time, especially when a graduate is returning for a new dog. "As a graduate, you could have worked successfully with your last guide for ten years, and you're starting all over with a new partner," he says. "You have to let go of all the things you knew from your previous guide, and give your best to your new partnership for it to work."
The Dream Team
Goodman's current partnership with Teddy certainly works. The two live in Somerdale, and head to Mount Laurel each day for Goodman's position as the business development specialist at TD Bank. Teddy also tags along on a monthly trip to North Jersey for a mentoring program Goodman is involved with, but having a Seeing Eye dog and traveling with one is a choice. As Goodman explains, "I use a cane when I have to, but I prefer to travel with a dog. I live a much more independent quality of life because of my dog. I can travel with others or alone, and I do it safely and confidently. I also feel that traveling with a Seeing Eye dog is a more dignified way to get through life."
When Teddy is wearing his harness, he knows he's at work and should be focused on Goodman. When his harness comes off, he knows it's time to relax. At home, Teddy is a normal dog romping around with Goodman's Greyhound and two cats, but whenever he sees his harness, his tail is wagging and he's is eager to get to work. "When I am at home and Teddy doesn't have to be with me, he follows me everywhere both to check on me and because he wants to be where I am," says Goodman. "That's how I know Teddy and I are a team."
After eight to ten years of work, it's time for The Seeing Eye dogs to retire, marking the last leg of their powerful journey.  If their situation allows, a handler can keep their dog as a pet or re-home them to a friend of relative. Otherwise, the dogs return to Morristown where the organization will adopt them out to one of the loving families on The Seeing Eye's public adoption waiting list, which ranges from one to four years. Through tremendous funding efforts, The Seeing Eye is able to send their dogs on this lifelong and life-changing quest. For eight years of work, the partnership between a dog and a graduate costs approximately $64,000, but the handlers pay $1 to $150 for the entire service.
Dog owners often describe their canine's "look of love," that soulful gaze that solidifies the bond between dog and human. For Dawn, Teddy, and the 500 puppies born into The Seeing Eye program each year, that look of love is crucial to their role as guide dogs. "I feel better about myself when I walk with my guides," says Goodman. "I know that can be seen and felt by all who see us together. I can feel Teddy thinking as he guides me. I can feel his eyes on me, making sure I'm all right."
Bob Denby at MarketFair Mall with his seeing eye dogs.