MUSE: Life in Morris, Union, Somerset, and Essex Counties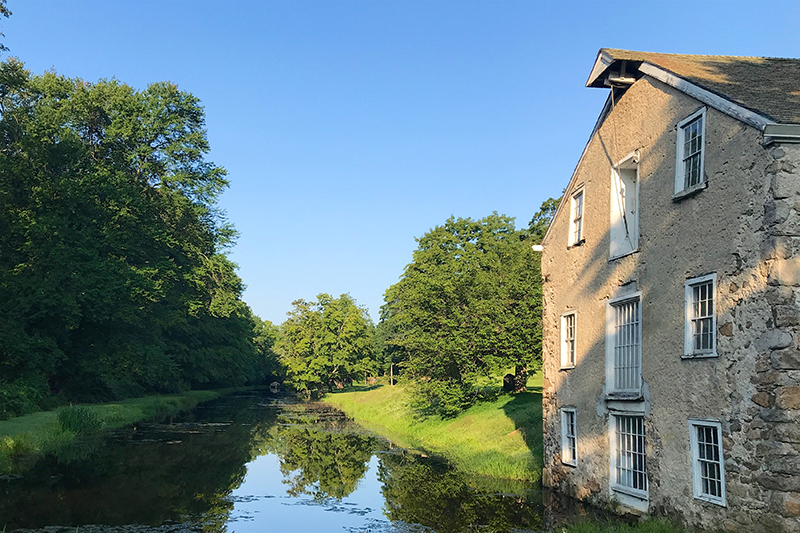 Morris Canal and Smith's General Store at Waterloo Village, New Jersey. (Photo by Zeete, Wikimedia Commons)
By William Uhl
MORRIS
Morris County is making old new again, starting with the Morris Canal. A relic of its time, the historic commercial waterway fell into disrepair over a century ago. Recently, however, the canal has found a new life in bits and pieces: passionate volunteers are restoring sections as hiking trails and bike routes for public use, a project known as the Morris Canal Greenway. Currently stretching just over 4 miles, it will eventually extend between the New Jersey Transportation Heritage Museum and Waterloo Village, a historic canal town.
On the eastern edge of Morristown, the Schuyler-Hamilton House preserves another important part of history — the wartime romance between Alexander Hamilton and his wife Betsy Schuyler. In the late 1700s, General Washington sent Hamilton to Morristown to prepare the townspeople for the second winter encampment. Within the walls of the house, Hamilton and Schuyler met, and later courted, before marrying in Albany in 1780. Though its outside appearance is everyday, the interior is filled with historical artifacts such as portraits, furniture, and tools from centuries ago.
Supporting both the past and the present, the Park Avenue Club is a private dining and social club with ties to 13 local philanthropies. Having recently completed multimillion-dollar renovations, it offers daily breakfast, lunch, and dinner, as well as a charitable gala and golf outing. One of its local beneficiaries is the Morris Museum, which houses several forward-looking exhibits including "Steampunk Fashion," which puts a modern spin on Victorian technology and style, and "Aerosol: Graffiti," which explores the evolving narrative of graffiti and street art in Philadelphia and New York City.
Morris County offers a multitude of ways to experience the arts, ranging from 70 South Gallery's abstract, psychedelic exhibitions to Macculloch Hall Historical Museum's exhibits of classic American art and naval history. The Mayo Performing Arts Center brings the arts to life with a mix of famous musicians and stand-up comedians, as well as an upstairs gallery housing traditional visual arts including watercolor portraits, oil landscapes, photography, and more. Whether they're art galleries or historic sites, Morris gives the past new life.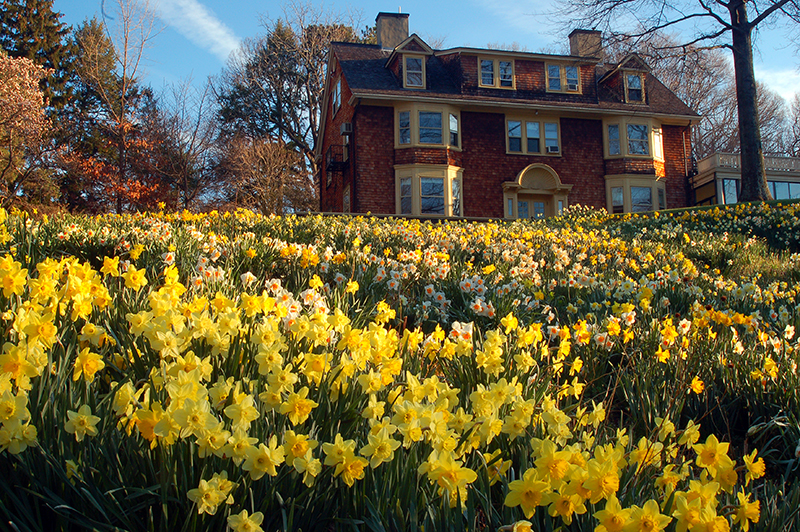 Daffodils proliferate at the Reeves-Reed Arboretum, a public garden in Summit. (Photo by James Kirkikis/Shutterstock.com)
UNION
Nestled within Union County, the Watchung Reservation covers 1,945 acres of largely undeveloped land, where the past and the present coexist in many ways. The reservation drew attention in the 1970s when a paleontologist uncovered ancient dinosaur fossils from its soil. The village of Feltville used to reside within the reservation's boundaries; now deserted and vacant, several buildings from the 1800s still stand, restored in recent years. Some of them are even decorated with the "Murals de la Selva," a collection of themed murals by Nicaraguan/Mexican artist Roberto de la Selva that depict native Mexicans at work, play, and worship. They are his only known murals, as he passed away in 1957 and was otherwise known as a sculptor.
Similarly, the Battle of the Short Hills Historic Trail lets visitors walk through history, following the steps of American soldiers who fought the British during the Revolutionary War in 1777. As hikers retrace the soldiers' advance through the Scotch Plains and retreat to the Watchung Mountains, they can see the Ash Brook Reservation. On it stands the historic Frazee House, home of the local legend of Elizabeth Frazee, who, as the tale goes, encountered British General Cornwallis after the Battle of Short Hills. His troops hungry, he demanded she forfeit the bread she was baking. When she courageously responded, "Sir, I give you this bread through fear, not in love," the general turned to his men and forbade them from taking any bread, and they left shortly thereafter.
There's more to explore than just history in Union — the nonprofit Reeves-Reed Arboretum houses a range of plants, including specialty gardens like the Susie Graham Reeves Rose Garden, which contains 286 artfully-arranged rose bushes from 150 different varieties. The Summit Playhouse is New Jersey's oldest continuously running community theater, running a variety of plays including The Women, a biting all-woman satire centered around Manhattan gossip in the 1930s. The Visual Arts Center of New Jersey houses lectures, performances, and film screenings, while the Kean University Art Gallery mixes student art with exhibits centered on human rights. Union County has plenty to offer — all it takes is walking out the door and into a place all about the past, present, and future.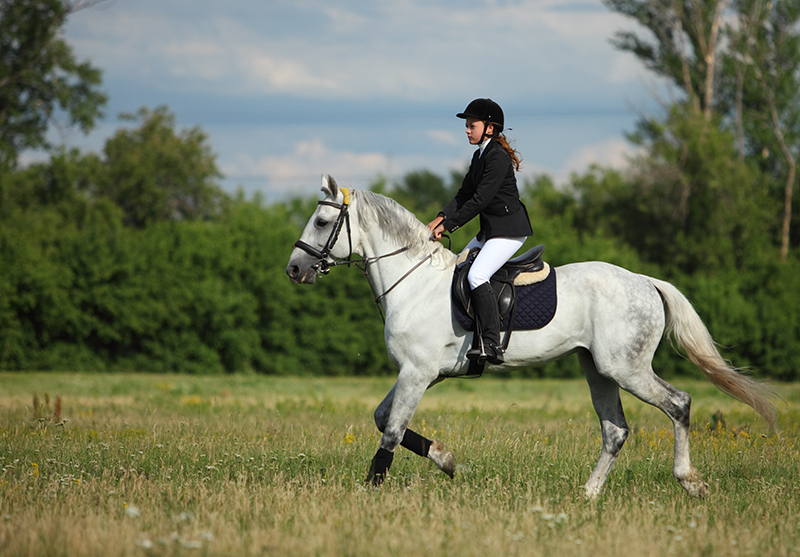 Equestrian experiences at Lord Stirling Stable. (Shutterstock.com)
SOMERSET
Exploring Somerset County is about remembering how to escape. Established in the '60s and named after the 18th century explorer William Alexander, the Lord Stirling Stable offers a perfect opportunity to slip away from the everyday and find an open field. Beginner equestrians can learn the ropes at introductory classes, kids can celebrate at pony parties, and riders with experience under their belt can venture out at night on Moonlight Trail rides.
For those looking for a different kind of ride, the Millstone and Raritan rivers are key areas for canoeing. Historically used in major shipping routes during the 19th century between Pennsylvania and New York, they now serve as scenic waterways for canoeing, kayaking, and fly fishing.
Established in 1907, the Bernards Inn carries the same air of history. Inspired by the lavish estates built after the post-Civil War economic boom, its luxurious amenities include a curated wine collection. Natirar Park and Mansion, once owned by late King of Morocco Hassan II, holds a similarly opulent history. Since his passing, Somerset County operates over 400 acres of the estate as a public park, mixing open lawns, woodlands, and access to the Raritan River. Ninety separate acres were dedicated to the Mansion: a resort, restaurant, and farm wrapped into one.
To get fully immersed in the great outdoors, visit the Great Swamp National Wildlife Refuge. A 12-square-mile natural oasis, it's the perfect place to find over 200 species of birds, as well as foxes, turtles, and a variety of wildflowers.
For a more active outdoor getaway, the Neshanic Valley Golf Course offers the fun of a public golf course with the feel of a private golf club. Covering 420 acres, the course has hosted several championships, including the 2012 United States Golf Association Women's Public Links Championship. The course has a scenic view of the surroundings, including Neshanic Valley and the nearby Sourland Mountains. Whether you're heading to the open fields or historic houses, Somerset makes it easy to leave the grind behind.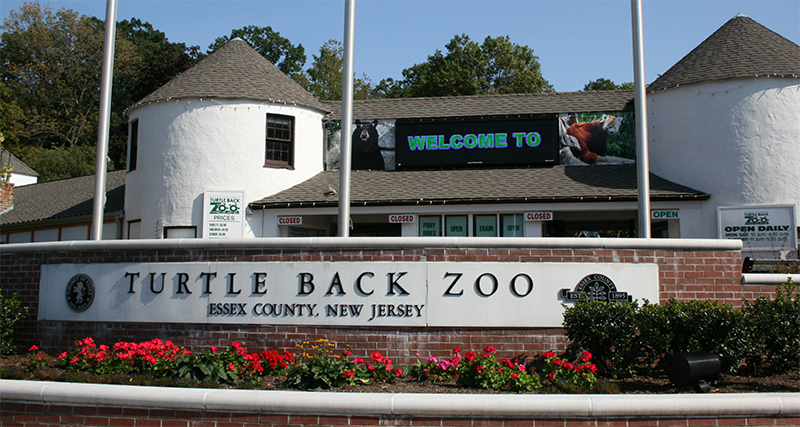 Essex County Turtle Back Zoo. (Wikimedia Commons)
ESSEX
Covering over 2,100 acres, the South Mountain Reservation is a nature reserve with a history that stretches back centuries. South Mountain is a part of the Watchung Mountains, which were named by the Lenape Native Americans, their original inhabitants. During the Revolutionary War, General Washington used it as an outlook. In the 1860s, English politician John Durand reportedly called it "a wilderness, as it probably existed at the time of Hendrick Hudson, a primitive forest abounding with deer and other wild animals, and traversed by streams alive with trout. Game was plentiful — partridges, quail, woodcock, rabbits, squirrels of every species, raccoons and foxes; while occasionally a hungry bear that had trespassed on the farmyards in the vicinity would be tracked to its den and shot." Though much has changed around South Mountain, it has never lost its dedication to wildlife.
Nestled by South Mountain Reservation is Essex County Turtle Back Zoo. Titled after the Lenape-named Turtle Back Rock, a massive crystalline rock formation, the zoo embodies the mountain's wild spirit with all manner of animals. Some exhibits, like Wild New Jersey, feature creatures from across the state. Others are more exotic — the Amazing Asia exhibit houses the endangered Amur leopard and red panda, contributing to the Association of Zoos and Aquariums' plan to repopulate these species on the brink of extinction.
After exploring Essex County's natural gifts, relax with the fine arts. The Montclair Art Museum offers exhibitions including modern examinations of American identity and Native North American art, as well as programs for families, adults, and teens. Events range from traditional mediums, like instructions on the potter's wheel, to esoteric exercises, like paper quilling, a Renaissance-period art form involving rolled paper strips. The Newark Museum has a more global collection, specifically focusing on Asian
countries. Its exhibits include Japanese Buddhist art, Southeast Asian religious art, and traditional Tibetan art. It houses the largest collection of Tibetan art in the Americas, with over 5,500 secular and religious works. Between the variety of animals and art, Essex County has a clear dedication to life in all its forms.