Musical Community Building

The Choirs of The Performing Arts School at bergenPAC
By Donald H. Sanborn III // Photography by Jeremy Lebled 
It was really amazing to meet Kristin Chenoweth, and perform with her," says Jacqueline Lutz of Demarest. Lutz, 9, has been a member of the Chamber Chorus of The Performing Arts School at bergenPAC for two years, in addition to singing in the choir at Luther Lee Emerson School.
The Chamber Chorus joined Chenoweth onstage for her December 10 show at the Bergen Performing Arts Center — or bergenPAC — in Englewood; the event was part of bergenPAC's Benzel-Busch Concert Series. They performed two songs with her: "Upon this Rock" and "Reasons for Hope." Before the concert, they also performed in the lobby. "We sang two songs: 'Bridge Over Troubled Water' and an arrangement, by Kirby Shaw, of 'This Little Light of Mine,'" says Pastor Jeffrey A. Bryant, the director of the chorus.
Becky Serico, the managing director of The Performing Arts School, says that Chenoweth "was absolutely a dream to work with. She was so kind and generous with the kids. We're lucky, because Dominic Roncace, the president and CEO of bergenPAC, is passionate about education. He is always helping us get opportunities to perform on the main stage. These kids are committed because they know that there's something really exciting to work towards: 'If I work hard, I'm going to get to perform with Kristin Chenoweth!'"
Bryant adds that Chenoweth, the Broadway and television star whose concerts have sold out at venues such as Carnegie Hall, "is one of their idols. When they found out that we were doing the show, they were ecstatic about performing in the same theater with her.  When they got to the sound check, that's when we met her. Her spirit was just so sweet."
The chorus had only two rehearsals in which to prepare for the concert. "We had to learn music in a two-week time span, for a concert, and they did it," Bryant says. "They learned music in two weeks, one rehearsal per week."
"That's the real world," Serico observes. "So I think that was a real learning experience. You've got to be ready, you've got to have the technique, and you've got to know your stuff. It's intense." The young singers "memorized everything, and the show was great," Bryant says. "Their persistence is mind-blowing to see. They push themselves to the limit."
Jewelry for Scholarships
For the ninth consecutive year, Norma Wellington — a jewelry designer who is based in Northern New Jersey, and has a piece in the permanent collection of the Smithsonian Institute — supported the scholarship fund at The Performing Arts School at bergenPAC. On the day of Chenoweth's concert, Wellington hosted a reception during which models wore her pieces, and she donated 25 percent of her sales from the event.
 "I was there at nine; the [jewelry] show opened at twelve," Wellington remembers. "It takes a long time to set up, because I had over 300 pieces. So I was there until Kristin Chenoweth ended and everybody left, just to make sure there were no additional sales, because it really makes me very happy to be able to give scholarships. Each scholarship is for an entire year, so a kid gets a great opportunity."
She adds, "I had quite a lot of volunteers: models, sellers, and cashiers. So a lot of people were involved. Some of them had never been exposed to bergenPAC, and now they know the great work that bergenPAC does with children. In fact, one of my sellers became a member of bergenPAC that night."
 "We have a scholarship committee that looks at each situation: the size of the family, income, extenuating circumstances such as the loss of a job," Serico says. "We give anywhere from full to partial scholarships, depending on all of those factors. But we really believe in not turning anyone away."
To participate in the Chamber Chorus for 36 weeks, the tuition is $800. The tuition for Young Voices 1 (ages 5-6) and Young Voices 2 (ages 7-9) varies by session. The fall session is $270; summer is $160; and the winter and spring sessions are $260 each.
"We've got kids that come from schools that already have their own music programs, so what we're doing is kind of an enhancement for them. They come to us to be on the big stage; to have a professional theater experience," Serico notes. "But we also have kids who come from high-need schools that have no [music] program at all. You find kids who have this amazing talent, and if they don't have the teachers or programs to help them grow that talent, that's a real shame."
"Exactly," emphasizes Wellington. "And that's why I give my show for the scholarship program, because it's so terribly important. I grew up in Manhattan, and I had the arts available to me. My father and I used to paint, and we went to museums together. My parents gave me music lessons, and I studied opera singing. I want children to have the same opportunities that I had, and they can't if they're from poor families."
"So if someone can't pay, we work with them and we make it happen," Serico adds. "We've been lucky that we've been able to do that, because of generous donors like Wells Fargo and Ms. Wellington."
Wellington believes that her background in art, music, and acting helped her when she began her jewelry design business. "I put together a few pieces, went to a flea market and I sold nothing! The reason that I continued was because I had learned from my art education — and my music education — you don't stop. If it isn't perfect the first time, you do it over, and you learn to make it perfect."
"So it's all about perseverance, and working hard. That's something that I learned as a child in various things that I did, including the music. I was very fortunate," Wellington states.  "It's such a worthwhile thing to bring the arts to kids who don't have the opportunity to get close to it, and be part of it. Lives can be changed!"
Curriculum and Repertoire
Serico previously worked at New Jersey PAC as a director of arts education; she came to bergenPAC as managing director of The Performing Arts School in July of 2016. "One of the things I was tasked with was building the music program," she recalls. She brought Bryant — who sang in the Boys Choir of Harlem, as well as Pastor Chantel Wright's ensemble, Songs of Solomon — with her. "This is my second year with the choir," Bryant says. "We founded it back in 2016. Becky was the visionary behind it; I was just the hand in motion, to take it off the ground."
"I first met Jeffrey when I was working at Carnegie Hall, in education," Serico says. "We had choral programs for students in juvenile detention settings. It was challenging and very hard work, but absolutely necessary and wonderful. Not only is Jeffrey a great teacher, he grew up with that passion and desire to build a community and teach kids how to be good in this world. So I wanted to bring him here. I said, 'there's nothing, we can build this together,' and he seemed really excited about that."
All of the choirs rehearse on Saturdays. Bryant says that Young Voices is a "more laid-back curriculum, where I teach the kids how to use their voice, and how to make sound in the artistry of music. At that point they're just coming into their voices. So I teach them their favorite Disney songs, from The Lion King to Moana. I teach them how to breathe, make clear sounds, and stand properly when they're singing."
"The Young Voices program is an exploration and exposure program for young ones," Serico concurs. "[We work on] the fundamentals of basic vocal technique: posture, breathing, learning how to read music. In terms of repertoire, we do songs that are within a reasonable range so that the kids can learn the basics of singing in an ensemble, and blending. Working with each other, singing together. So we'll do things like Disney songs, pop songs, standards like that."
Unlike the Young Voices program, the Chamber Chorus requires an audition to join. "Once they get up into the Chamber Chorus, they'll have known fundamental notation, and they'll be able to follow us through a rehearsal year," Bryant says. "We do everything, from gospel to classical."
"We also do some musical theater," Serico adds. "We have a varied repertoire at any given time, so that when we're invited for gigs we can go out into the community and present a diverse, fun program. When you sing, you have to be able to tell a story. So there's a lot of focus on not just standing and singing, but telling the story, and having expression — in your body, in your voice, and on your face."
Raising the Curtain on the Community
On April 14, the Chamber Chorus will perform with another Broadway veteran, Patti LuPone. "We're doing five songs with her, so that's really amazing," says Serico.
"On June 10 we have our school's second annual fundraiser, that gives the kids an opportunity to have a full, professional performance. We call it Raise the Curtain. The kids in Young Voices don't get to perform on the main stage with the big artists, but everybody gets the chance to be a part of this fundraiser."
Serico continues, "Years ago we started as a dance school at the [bergenPAC] theater. But over the years the school has grown so much that in 2014 we came into our own building. We have a lot of theater kids, and a lot of music kids. So we decided to have a comprehensive show featuring all of the different disciplines. For example, last year the kids performed "Circle of Life" from The Lion King; the chorus sang while the dancers danced. It allowed us to create these exciting pieces that are combining disciplines."
Bryant says that he would like to see the choirs become "more involved with community work. We are working on an outreach program, called Sweets and Things, where we will go into nursing homes and homeless shelters [and] sing for the people. So I think that my main goal is to get us into the community, and let them know that a group of young people is here to help them grow — socially, emotionally, and spiritually."
Serico agrees. "It's important for us to have our own community chorus, with our own kids who go out and represent the community. So we'll do things like the Menorah lighting, the tree lighting. We were invited to sing and bring cookies to the Englewood Housing Authority. Any opportunity to sing at senior centers, or anywhere people are in need, we're passionate about doing that."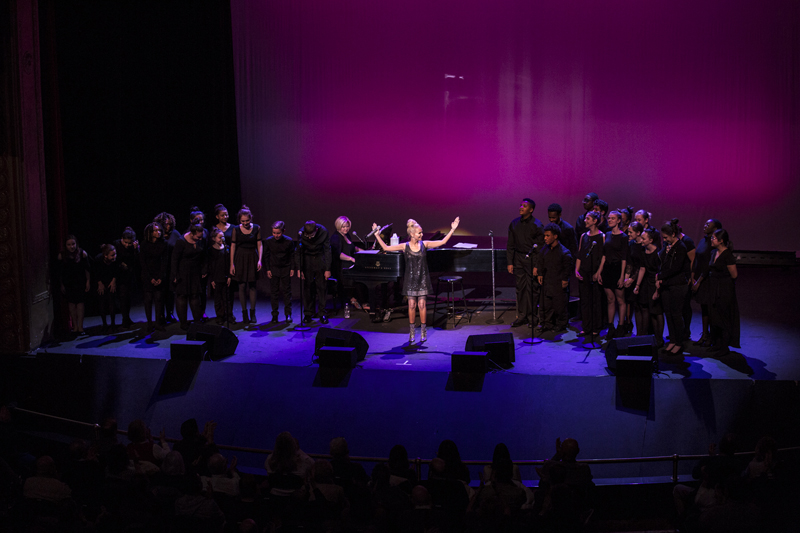 Life Lessons
In addition to music, Serico and Bryant hope to equip their students with skills that Norma Wellington feels she gained from her education in the arts. "It is more than just a choral music program; for some of the kids it is a safe haven," Bryant says. "We don't only teach music, we teach life lessons: we teach friendship, we teach community, and community-building."
"This is a safe, creative, and fun place for the kids to come and build confidence," Serico adds. "Music teaches self-discipline; you have to be responsible, learn your music, and bring your music to rehearsal. You have to dress professionally when you're rehearsing and performing. You have to stand with confidence, like a professional. It's a very close tie-in to life skills."
Wellington observes that the chorus members "learn communication skills. They learn to socialize; they work together with other kids, and they work together with their teachers. They learn to take criticism. It later helps them in the workforce. They learn creativity, collaboration, and discipline. And they have fun, which is the best part. They learn the beauty of music and art."
Jacqueline Lutz says that she has "gained [the] confidence to be on a big stage, and the choir director helps me with my vocal strength. And I have a lot of fun!"