Popcorn Al Fresco: Summer Film Festivals in the Five Boroughs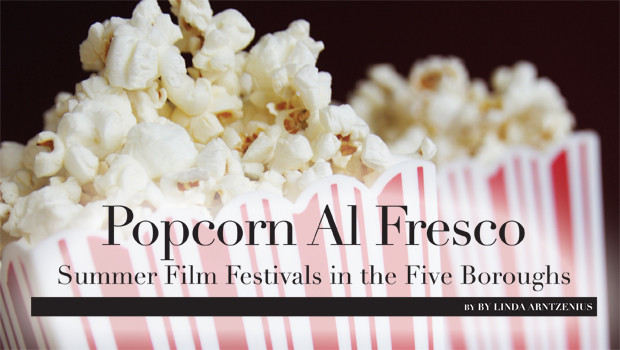 By Linda Arntzenius
Summertime turns New York City into one big Film Screen with free festivals across the Five Boroughs from Central Park to Tompkins Square in the East Village, and from the Brooklyn Bridge to Coney Island.
Summer movies, like summer books, are rarely desired to stimulate deep thinking. And there's not much that falls into the profound category in the offerings of the many outdoor summer film festivals in and around Manhattan this year. When the temperatures and humidity soar who needs mind-taxing dramas or thought-provoking documentaries? Summer is a time for New Yorkers to kick-back and, for those of us without a retreat in the Hamptons, time to enjoy an evening out-of-doors when the air has cooled a tad and summer in the city means picnic and a movie.
MANHATTAN MOVIES
Light comedies and familiar classics are what you will find during the five-night Central Park Film Festival from August 18 through August 22. Thanks to the Central Park Conservancy, you can enjoy films, each of which celebrates the city in some way, under the stars on a blanket spread on Sheep Meadow, the 15-acre preserve located at the west side of the park from 66th to 69th Streets in New York City. Arrive at 6:30 p.m. for entertainment provided by a D.J. until the film screens at 8 p.m. All but Tuesday's film are rated PG, so feel free to bring the kids along.
Tom Hanks is a kid who wishes himself into an adult's body in Big, Monday, August 18; Wes Anderson's The Royal Tenenbaums, stars an ensemble cast that includes Gene Hackman, Gwyneth Paltrow, and Angelica Huston, Tuesday, August 19; Sydney Pollack's 1973 romance The Way We Were, has Barbra Streisand and Robert Redford as lovers divided by politics, Wednesday, August 20; Ghostbusters with Bill Murray, Dan Akroyd, Sigourney Weaver, and the late Harold Ramis is still hilarious, Thursday, August 21; and Alfred Hitchcock's classic thriller Rear Window, stars Jimmy Stewart and Grace Kelly, Friday, August 22.
The HBO Summer Film Festival in Bryant Park at 42nd Street and Sixth Avenue offers an eclectic mix. This ten-week festival began late June and epitomizes the outdoor experience with its Monday night screenings from 5 p.m. to 11 p.m. Blazing Saddles, directed by Mel Brooks and starring Gene Wilder as the Waco Kid and Cleavon Little as the first black sheriff in the Old West, is listed number six on the American Film Institute's Top 100 Funniest Movies of all time. It screens July 7 and is followed by Suddenly Last Summer with Liz Taylor, Kate Hepburn, and Montgomery Clift in Tennessee Williams' psychodrama (with a Gore Vidal screenplay) on July 14. Comedy returns on July 21, with Chevy Chase and Beverly D'Angelo directed by Harold Ramis in National Lampoon's Vacation, before it's back to drama with Bogie and Bacall being terrorized by Edward G. Robinson and his gangsters in John Huston's Key Largo on July 28. Ralph Macchio is a Jersey kid who finds himself ostracized when he moves to a California high school in The Karate Kid, August 4. Doris Day, Rock Hudson and Tony Randall team up for the romantic comedy with a Madison Avenue twist in Lover Come Back, August 11. The festival wraps up August 18 with The Shining, Stanley Kubrick's tense drama with Jack Nicholson as an unstable writer working the off-season at an isolated resort.
The favorite movies of staff members from Riverside Park South provide the selection for this year's Summer on the Hudson: Pier I Picture Show on Wednesday evenings from 8:30 to 10:30 p.m. Landscape Architect Margaret Bracken gives us Clueless, July 9. Park Manager Ben Kramer has chosen Back to the Future, July 16. Director of Programming Zhen Heinemann's pick is Harold and Maude, July 23. Director of Volunteers and Horticulture Lynda Tower presents The Princess Bride, July 30. Park Manager Paul Evans dust off Anchors Aweigh, August 6 and Park Supervisor Marissa Birmingham presents The Outsiders, August 13. This thin sliver of a park runs for four miles from 62nd to 158th Streets along the Hudson River and is Manhattan's most spectacular waterfront park with landscape designed by Frederick Law Olmsted in 1875. It's spectacular. Movies against the backdrop of the river? Wow!
At the Marcus Garvey Park Amphitheater in Marcus Garvey Park, Madison Avenue at East 120th Street to East 124th Street, Summerstage Presents award-winning percussionist and activist Bobby Sanabria along with a screening of Chico and Rita on Wednesday, August 13, from 7 to 9 p.m. Summerstage will get you up on your feet for Bellatrix! A Soul Train Tribute to Women in Music on Sunday, August 17, also from 7 to 9 p.m.
BROOKLYN
SummerScreen in McCarren Park at the corner of Bedford Avenue and North 12th Street in Williamsburg, offers free screenings on Wednesdays in July and August at dusk, around 7 p.m., with performances by live bands from 6 p.m. The films are Zoolander, July 16; Cry-Baby, July 23; Heathers, July 30; The Big Lebowski, August 6. The last title on August 16 is an audience pick.
BROOKLYN BRIDGE PARK
Screenings begin at sundown, around 8 or 8:30 p.m., on Thursdays for the Brooklyn Bridge Movies with a View on the lawn at Pier 1 in Brooklyn Bridge Park. Music begins at 6 p.m. with a D.J. from Brooklyn Radio and each film is accompanied by a selection of shorts. There are several kid-friendly titles among the mix of films, which includes Cat on a Hot Tin Roof (August 7), Alfred Hitchcock's The Birds (August 21) and the R-rated Ghost Dog: The Way of the Samurai (Friday, August 15). But the rest of the time, kids can enjoy the Marx Brothers in the 1933 Duck Soup (July 10), to Sharknado (July 17), Fantastic Mr. Fox (July 24), and Beetlejuice (July 31).
KID-FRIENDLY QUEENS
Kid-friendly titles are included on Tuesdays from 8 to 10 p.m. in Movies at Crocheron Park, 35th Avenue and Cross Island Parkway. Despicable Me 2 is on August 12; Monsters University, August 19; and Europa Report, a family movie in which an international crew of astronauts undertake a privately funded mission to search for life on Jupiter's fourth largest moon, August 26.
Disney's oscar-winning Frozen screens for free at Elton Street and Jamaica Avenue, in Highland Park, Queens, Tuesday, August 26, and again at the George Seuffert Bandshell in Forest Park, Queens, Wednesday, August 27. Both screenings take place from 7:30 p.m. to 9:30 p.m.
An eight-week International Film Festival celebrating the cultural diversity of Queens offers free movies at the Socrates Sculpture Park in Long Island City on Wednesday nights from July 2 through August 20. Pre-screening live performances begin at 7 p.m. followed by movies at dusk.
Visitors are invited to sit on the grass and enjoy cinema from a different country or culture each week as the sun sets over the gorgeous Manhattan skyline. This year, you can also participate for free in a sunset paddle on the East River on film nights when the tide is suitable. Free kayaking and canoeing will depart from the beach at Hallets Cove. To learn more, visit:  http://socratessculpturepark.org/programs/films/.
As for the films, their titles alone will let you know what to expect: Pussy Riot: A Punk Prayer (Russia/UK, July 2); La Pirogue (Senegal, July 9); The Deadly Ponies Gang (New Zealand, July 16); Umberto D (Italy, July 23); Viola (Argentina, July 30); Forest of the Dancing Spirits (Central Africa/Sweden, August 6); Assassins (Japan, August 13); and Microcosmos (France, August 20).
URBAN PICKS
Don't miss Jean Renoir's masterpiece Grand Illusion, presented by the French Embassy and NYC Parks & Recreation as part of its 7th annual outdoor Films on the Green Festival of classic and contemporary French films.
Made in 1938 and set during the First World War, it stars Jean Gabin, then the heart-throb of French cinema, and Pierre Fresnay, as French POWs from opposite sides of the tracks. Erich von Stroheim, in the role that was much parodied later, is their aristocratic German captor.
The film's director was the son of the famed Impressionist painter Pierre August Renoir. He won the Croix de Guerre for his service during World War I.
It will be screened at Pier I in Riverside Park South in Manhattan on Friday, July 18, from 8 to 10:30 p.m. Like several of the film listings above, Grand Illusion is clearly an exception to the remarks made in the introduction. Thought provoking it was intended to be. It is also a movingly beautiful. Once seen, never forgotten.
So make for the park and enjoy popcorn al fresco.
Web Sites:
For more, visit the New York Parks web site: www.nycgovparks.org/events/free_summer_movies; the Central Park web site: www.centralparknyc.org/visit/things-to-do/family-community/film-festival.html; for more on the Bryant Park Film Festival, call hotline: 212.512.5700.