Russ & Daughters Cafe: Fourth Generation Bagel & Lox in New York City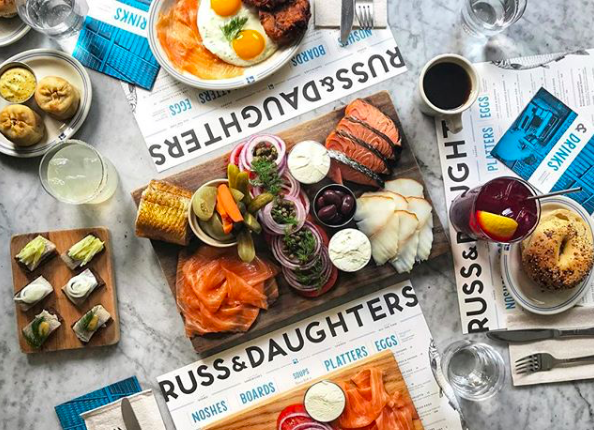 By Taylor Smith 
Located at 179 East Houston Street in Manhattan, Russ & Daughters was founded in 1907 by Joel Russ, who had recently immigrated from Poland. He began his life in New York City by selling herring out of a barrel on the Lower East Side to crowds of hungry and homesick Eastern European Jews. Over the course of seven years, Russ graduated from a barrel to a pushcart. Soon, the popular pushcart became a horse and wagon operation, and in 1914 Russ had saved enough money to open a physical store. While the original business was located on Orchard Street, Russ moved the store to nearby 179 East Houston Street in 1920, where it has remained ever since. 
Russ's three daughters — Hattie, Ida, and Anne — worked at the store daily from the time they were teenagers, prompting Russ to change the name of the business to Russ & Daughters when he was ready to retire in 1935. All three daughters married men who would join the family business. The couples retired in 1979 and the business was inherited by Anne's son, Mark Russ Federman, a lawyer. For the next 30 years, Mark and his wife Maria ran the entire operation, and Russ & Daughters emerged as a Lower East Side landmark. Before retiring, Mark penned a memoir, Russ & Daughters: The House that Herring Built. 
In 2009, cousins Josh Russ Tupper and Niki Russ Federman took over operations, making them the fourth-generation owners. Russ & Daughters was subsequently recognized as an important New York City historical institution by the New York City Mayor's Office, the Manhattan Chamber of Commerce, The Smithsonian Institution, and The Foundation for Jewish Culture. In 2013, Russ & Daughters was the subject of a documentary directed by Julie Cohen entitled, The Sturgeon Queens. 
A hundred years after Joel Russ began selling herring out of a barrel, Josh and Niki opened Russ & Daughters Cafe, which includes both retail and restaurant services. In 2015, the original Lower East Side location expanded uptown to the site of the Jewish Museum. A third location is planned for 2019 at the Brooklyn Navy Yard. 
"Appetizing" is a Jewish food tradition that is most typical among American Jews, and it is particularly local to New York and New Yorkers. The dictionary definition of "appetizing" is, "appealing to the appetite especially in appearance or aroma; also, appealing to one's taste." And that applies to Russ & Daughters as well.
Hours: Monday-Friday 9AM-10PM and Saturday-Sunday 8AM-10PM