The Historic Olde Mill Inn in Basking Ridge

Be transported to another era. 
By Erika Moritz 
The Olde Mill Inn, located in Basking Ridge, N.J., is a preferred choice among other Central New Jersey hotels. Although the Inn is now known for its unique spaces for weddings and events, its beautifully landscaped gardens, and modern guest amenities, it also played a role in New Jersey history.
In 1768, Samuel Lewis, a miller from Basking Ridge, acquired the land that the Olde Mill Inn now stands on from William Penn. On it he built a water-powered gristmill and a barn. Soon after Lewis passed away, his grandson Richard Southard inherited the land and discovered its convenient location — an equal distance between the budding cities of New York and Philadelphia. The land was then used as a spot for commerce and served as a trading post during the Revolutionary War. The wooden mill served as a supply house for flour and meal for the Continental Army. From this, the barn was given the name the Grain House for its supply of grain to the army.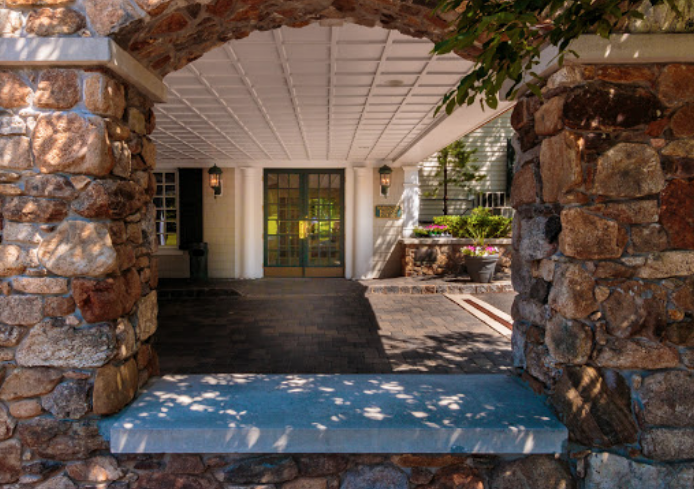 In 1929, the property was bought by William Childs, who saw a multitude of possibilities for the Grain House. Childs began construction to convert the barn into a hotel. Instead of gutting the barn and starting fresh, he decided to preserve the inside of the barn and keep the classic spirit of the property. Still known as the Grain House today, the barn remains structurally the same as it was two centuries ago.
Guest might know the rooms by their current names, but many of these rooms once had specific functions. What is known now as the William Childs Dining Room was the machinery room, the Coppertop Pub was the horse stable, and the the grain storage area that feed Gen. Washington's army is now the Grain Room.
The Bocina Group now brings the mission of affordable elegance to the Olde Mill Inn. With its historical charm, it has the ability to transform guests to another era. It continues to be a local favorite with an atmosphere and history that cannot be duplicated anywhere else in New Jersey.
225 Route 202 Basking Ridge, NJ 07920
908.221.1100