The Restaurant at Maritime Parc at 10

A Culinary Destination Reimagined
By Hope Casey
Since first opening in 2010, The Restaurant at Maritime Parc has been known for its sophisticated space, award-winning food, and enviable views of the Hudson. Now, in its 10th year, chef/owner Chris Siversen steps up this Jersey City gem's game with a new interior and menu to die for.
Known for its picture-perfect views, positive guest reviews, and its smartly curated menu, many would wonder why executive chef and partner Chris Siversen would close The Restaurant at Maritime Parc's doors for a complete overhaul of its space in advance of its 10-year anniversary. However, in February 2019, that is exactly what he did.
Maritime Parc is in an elite class offering an elevated waterfront dining experience, having made New Jersey Monthly's Top Restaurants list every year since 2011, including last year's Top 30. While many would argue to not fix something that is already unique in its own, ahead of its 10th year, the team — including Siversen, his partner Marc Haskell, and vice president of operations, Jette Starniri — set its sight on enlarging the space, adding more seats, a fresh new lounge area, and a reimagined design. The overarching goal was to evoke a modern, inviting, and relaxed atmosphere where guests can enjoy light bites and any one of the establishments signature craft cocktails (all of which are aptly named after notable shipwrecks along the Eastern Seaboard) or a full-course meal.
The result is a beautifully designed and well-appointed interior that subtly balances drama and elegance that complements the stunning views of the Hudson and Lower Manhattan skyline that diners enjoy from its dining room and patio. The outdoor patio and wet bar provide the ultimate Happy Hour setting, and an ideal pit stop for commuters returning to the Jersey suburbs. Specials include The Restaurant's weekly Wine Wednesdays, where consumers will receive 50 percent off any bottle of wine over $100.
Working alongside longtime colleague and friend Jette Starniri, who oversees the operations for the restaurant and event space at Maritime Parc, Siversen applied the same precision and personal attention to detail in the redesign as he does with his craft. Together, the pair realized a handsome space replete with nearly all custom-made fixtures and furniture.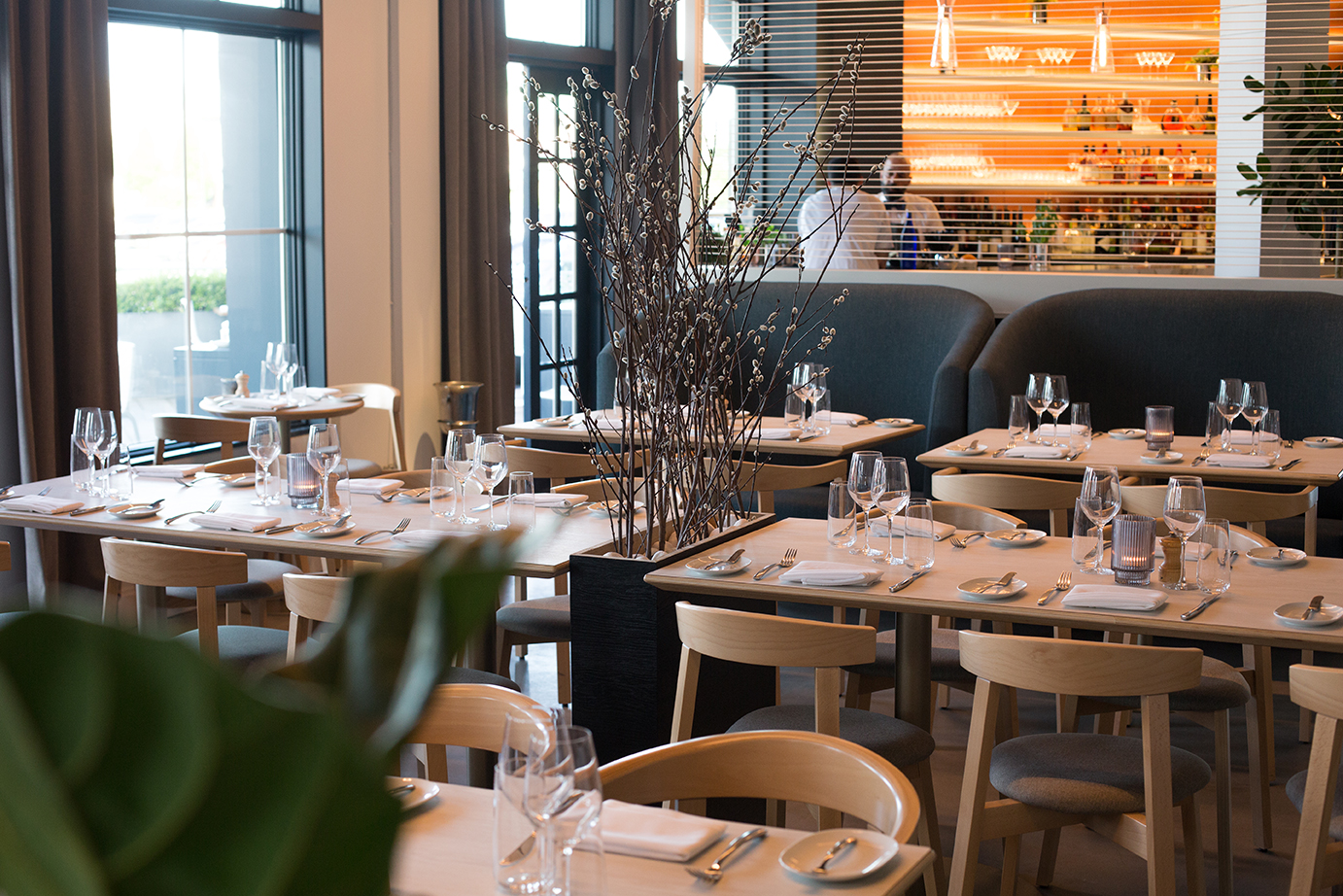 "We were inspired by the cool, sleek palette and lines of a space in Denmark, which we reconceptualized to balance the beauty our location affords by means of its sweeping views of the Manhattan skyline," says Starniri. 'You'll see several textures and materials utilized throughout — from our custom-made wallpaper that plays with the shades one finds in a dramatic sunset just hitting the horizon and the velvety blues of the sea beneath, to concrete, copper, and marble."
In addition to its new aesthetic, the restaurant features a "chef counter," where guests can enjoy a bit of "culinary theater" thanks to its completely open kitchen. Several sleek white tables adorn the dining room, many of which line the windows looking out on the pier. On the patio, guests enjoy outdoor seating and a full bar, bordered by botanicals and herbs that are later to be enjoyed in the dishes they devour or the cocktails they drink.
In the kitchen, Siversen remains — if not more — passionate about his culinary focus, which places an emphasis on the ingredients themselves, often delivering unconventional spins on traditional dishes. His inventiveness is on full display every Thursday where, as part of the restaurant's popular O.B.B. special, guests enjoy six oysters, the week's specialty burger (also available in a vegetarian-friendly form), and their choice of a beer or glass of wine for $25; recent installations include a chipotle burger, Korean burger, and a lamb burger.
Previously, the restaurant primarily focused on seafood with multiple fish entrees, a scallop burger, and even a raw seafood tower. However, with the new Maritime Parc, Siversen aims to expand people's perception of the restaurant as a singularly seafood restaurant, now offering a more diverse menu with several proteins ranging from chicken and pork as well as a 20-ounce aged porterhouse. Siversen wants to make sure people realize that it is much more than just a seafood restaurant.
Seafood fans need not fret, as there are plenty of seafood options including Siversen's rendition of a lobster thermidor entree, something that's near impossible to find at any Jersey City restaurant.
Not to be outdone by the interior itself, Siversen added some serious muscle to his culinary team with the addition of pastry chef Michael Lee, alum of Eleven Madison Park, and luxury cake designer Karen Padilla – testament that the food will never take a back seat to the restaurant's design.
Located on Audrey Zapp Drive, with Liberty State Park as its neighbor, The Restaurant at Maritime Parc is a treasure waiting for discovery. "We enjoy the hiddenness of our location; it adds to the drama upon discovery for guests who have yet to experience dining with us," adds Siversen.
Do yourself a favor and add The Restaurant at Maritime Parc to your summer "to-do list," enjoying dinner or brunch, which is offered on Sundays from 11 a.m. to 3:30 p.m. You will not be disappointed.