Thinking Outside the Box Seats
Photo by Heather Bobeck
Opera Theatre of Montclair's Educational Outreach
By Donald H. Sanborn III
New York has the Metropolitan Opera, while Pennsylvania has Opera Philadelphia. As such, it is tempting to wonder whether a company in New Jersey has a "phantom" of a chance of making a significant contribution to the scene.
Opera Theatre of Montclair, the 2018 winner of the JerseyArts.com
People's Choice Award as Favorite Opera Company, and the first New Jersey company to be invited to join the New York Opera Alliance, chooses to answer that question by concentrating on making the art form accessible — to performers and young
audiences.
The company's website succinctly summarizes its three-part mission: "Performance opportunities for singers. Social justice through arts accessibility. Musical education outreach."
"We do a lot of outreach performances in libraries, churches, and senior citizen centers," says Mia Riker-Norrie, Opera Theatre of Montclair's founder and general director. "We try to provide exposure to the art form, and accessibility to everyone. We feel that art really should be a right."
Making young people a part of the process is a key component of this endeavor.
"We try to use as many students as we can in our productions; high school — sometimes even middle school — students helping out with ushering and tech," Riker-Norrie says, though she admits that the company has not "delved into the social justice element nearly as much as I would like to do. I would love to go more into underserved communities."
It is no secret that opera tickets can be expensive. What may be less well known is that there are companies that charge singers a fee to perform, as well as audition.
"Like other classical musicians, many singers train for most of their lives to do this work," Riker-Norrie observes. "Unfortunately, companies frequently prey upon young as well as older underutilized singers — people who usually don't have any money in the first place, and are desperate to perform. I have an ethical problem with that. It's important to give singers opportunities to audition free and to sing for pay, whatever your budget."
"Pay the singers — what a concept!" quips Joyce Korotkin, who designs sets for Opera Theatre of Montclair. "That's something I love about this company: they are very fair to singers. Universally, emerging and even more established visual artists are constantly paying for the opportunity to submit work to juried shows or to have their work be in a show." Riker-Norrie agrees, "So we're giving singers an opportunity to do a full role, or at least sing something in concert, and use their craft."
Interactive Opera
To an extent, Opera Theatre of Montclair even offers members of the audience an opportunity to perform. The company has created an abridged, interactive production of The Magic Flute. "We call for volunteers from the audience, primarily kids," Riker-Norrie explains. "Obviously they don't sing, but we give them masks and let them be the forest animals."
At the opening of the Mozart opera, "Tamino is being chased by an evil monster, so we have a dragon costume," Riker-Norrie elaborates. "We'll pick somebody who's really enthusiastic, and once the scene is over I say, 'Now you have to go sit down!'" Interactive versions of other productions in the company's repertoire have been devised, including Cinderella and Hansel and Gretel.
"There's one thing I would change about the interactive Hansel and Gretel," Riker-Norrie admits. "The Sandman puts Hansel and Gretel to sleep, and the Dew Fairy awakens them. We thought, 'Why don't we get some bubbles, and we'll hand them out to kids as they come in, with instructions not to use them until we get to this point?' So I'd say, 'Go on now, and wake up Hansel and Gretel.' It was a little scary, because I had just realized that there would be a competitive mentality forming. We had poor Hansel and Gretel lying there, costumes drenched (with bubbles), and the kids started competing with each other to wake them up with the bubbles. I had to say, 'Okay, they're awake now. You can go sit down!'"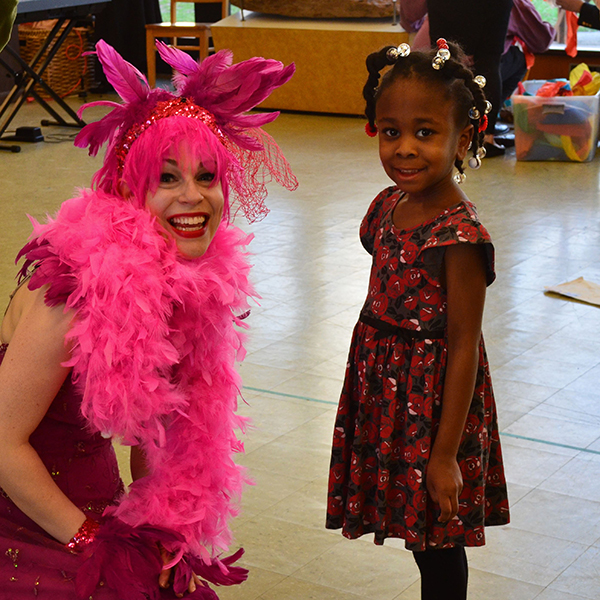 Soprano Nicole Guberman as Papagena poses with a young fan after an outreach performance of Mozart's The Magic Flute at Cedar Grove Public Library in April 2018. Photo by Heather Bobeck.
Musical Education Outreach
With Theresa DeSalvio, Korotkin designed the sets for Opera Theatre of Montclair's first full-length production, Verdi's Nabucco, which was presented in January 2015, two years after the company was launched. "I'd always had a fantasy of doing scenery for theater," Korotkin recalls. "I heard there was a new opera company in town, and I started looking into them. I went to a fundraising dinner they held, where I met Mia and a few other people. I thought I'd like to get involved in some way."
When Korotkin met DeSalvio, "we discovered that we both were painters, and had gone to the School of Visual Arts at about the same time. So we had the same background, skill set, and the same aesthetic approach to things. We turned out to work very well together; we put the elaborate scenery for Nabucco together in two weeks. From that point on, I remained on as their scenic designer." Korotkin has subsequently designed the sets for all of the company's main stage productions. For Hansel and Gretel, Korotkin is excited to be collaborating with David Gillam, a renowned theatrical costume and set designer.
A grant from the Montclair Fund for Educational Excellence (MFEE) enabled Opera Theatre of Montclair to do workshops and perform their interactive Magic Flute at Renaissance at Rand Middle School, where Korotkin is the art teacher. "When I started with this company, I learned that they have an educational outreach, so I asked if they wanted to come into my school and do a performance," Korotkin says. "Mia said, 'We'd love to.'"
Korotkin appreciates that Opera Theatre of Montclair aims "to educate children, as well as adults, about the joy of opera. Opera has always been considered, in people's minds, as a highbrow, very expensive thing that many, many people have no experience with, and feel they have no access to. At Renaissance, our focus always has been on the idea that when you expose young children to something early in their lives, they take ownership of it forever. If they are not exposed to it, then it becomes something that other people have, but they don't."
When the company performed at Renaissance, "they put on a fabulous show," Korotkin enthuses. "My school doesn't have an auditorium, so all the kids — about 275 — were sitting on the gym floor for approximately an hour and a half, watching this opera in total silence, absolutely spellbound. You could hear a pin drop. There wasn't a single kid in that audience who misbehaved or had to be moved. At the end, one student came up to me, and he had tears in his eyes. He said, 'This was the most spectacular thing I have ever seen! I don't even have words for it. I've never seen anything more amazing in my life!' That was the general attitude."
The following year, there was a return visit. "Our entire seventh grade was going on a field trip to the Metropolitan Opera House in Lincoln Center to see a full dress rehearsal of The Barber of Seville," Korotkin says. "Mia offered to come in and do an introduction to it in the school. We gathered the whole seventh grade in a classroom, and they brought in singers and a keyboard, and Mia narrated. Mia narrates fabulously well. She makes it fascinating, and such fun! They told the story; singers sang specific parts, and introduced the students to what the opera is about."
"The Wildly Whack World of Opera"
In addition to art, Korotkin teaches "an incredibly unique class," Riker-Norrie says. "At Renaissance, it's required that all seventh graders take an opera appreciation course."
Korotkin explains, "I started teaching that course with the idea that this old musical form in Western culture would be experienced by seventh graders, and in so doing they would not feel that it's forbidden, inaccessible to them, or irrelevant. It would be something that's part of what they grow up with, as their natural birthright in the world, to access the arts."
"The course's full title is Introduction to the Wildly Whack World of Opera," Korotkin continues. "It's not based on deep musical concepts. I'm not a music teacher, I'm an art teacher who wants to impart the profound beauty of this genre. I connected it to the social studies curriculum, which covers the Enlightenment. My course is a way of bringing Enlightenment concepts to life, in a way kids will understand."
Korotkin adds that the students "also get to do their own versions of costume and scenic design after having studied an opera. Sometimes I have them write their own operas and perform them.  Usually they perform them in rap, because none of them are willing to get up and sing in front of each other, but they love it."
Hansel and Gretel
Opera Theatre of Montclair's upcoming production is Hansel and Gretel, which will take place at the Central Presbyterian Church in Montclair. Performances will be at 4 p.m. on September 22, 23, 29, and 30. The production will be directed by Stacey Canterbury, and conducted by Elizabeth Hastings. "It will be fully staged, with costumes," promises Riker-Norrie.
"We have a 22-piece orchestra," Hastings adds. "We've been trying to get interest in it by doing previews for kids. We played to over 120 kids and parents the other day; we were a hit!"
The idea of adapting the Grimm brothers' fairy tale into an opera was that of Adelheid Wette, who wrote the libretto that her brother, composer Engelbert Humperdinck (1854-1921), set to music. The opera premiered in Weimar in 1893, conducted by Richard Strauss. "Humperdinck was Wagner's copyist, so he was very familiar with the Wagnerian style," Hastings observes. "There's a lot of that sound in this score." The opera's best-known pieces include the duets "Brother Come and Dance with Me" and the "Evening Prayer" ("When at Night I Go to Sleep").
"It's going to be a lot of fun," Korotkin says. "There's always the deeper metaphor that adults pick up on that children don't. To me, opera is all about the emotions that motivate human behavior. It's about inter-relationships and deep human issues — with unconscionably gorgeous music."
Hastings agrees. "Everyone thinks Hansel and Gretel is for kids, but there's a lot there for grown-ups. When I was a kid, I went to a lot of Gilbert & Sullivan. I didn't understand half of what was going on, but I loved it! I wanted more, and I hope that kids — and parents, too, who may be intimidated by opera — will get that out of this. It's a gorgeous score."
Inspiring Future Audiences and Performers
"There's a violist who was one of my middle school students way back when, and he's now a professional musician working with our company," Korotkin says. "I used to play opera in my art class. He would always come right up to the stereo, and stick his ear literally right next to it. He made no art in my class; he just could not tear himself away from the music! I understood what was happening. This kid was totally inside that opera, and I was not going to be the one to pull him out of it. To be sure, years later he ended up playing in our orchestra."
Hastings recalls, "before I got to know Mia, I had written to her to say 'I love what you do, I love your logo, I love your outreach, and I love what you do with kids. You're doing everything right — keep it up!' A lot of people are intimidated by opera, but Opera Theatre of Montclair has done so much to involve the community."
To learn more about Opera Theatre of Montclair or to purchase tickets to Hansel and Gretel, visit its website at operamontclair.org. As a 501(c)(3) nonprofit organization, all donations are tax deductible.