Urban History: The Maxwell House Coffee Plant
By Taylor Smith 
The Maxwell House Coffee Plant opened in Hoboken, N.J., in Hudson County in 1939. Owned by General Foods Corporation, the production facility extended from 11th to 12th Streets along the Hudson River overlooking Manhattan and Sinatra Drive. According to the New York Times, the Maxwell House Coffee Plant was a thriving facility through the late 1980s. In fact, it was the largest employer in Hoboken, and the famous "Good to the Last Drop" sign and slogan dominated the town's skyline. 
The decision was made to close the plant in 1990 when General Foods announced that it was moving the franchise to Jacksonville, Florida. As a result, many Hoboken residents lost their jobs, and the main industry in the Mile Square City once again became ship repair and waterfront commerce. Many were said to remark that the smell of freshly roasting coffee left the air. 
After over a decade of vacancy, Toll Brothers purchased the plant in 2003 with the intention to transform the property into an upscale condominium community. This purchase coincided with a mass revitalization of the Hoboken waterfront between 2003-2006 that saw real estate prices skyrocket. Hoboken already held a strong identity before its revitalization as the birthplace of modern baseball and Frank Sinatra, the site of the New York Yacht Club, and the center of New York City shipping.
Maxwell Place, as it is known, is now one of the most sought-after condominium communities in Hoboken. With views of the iconic Manhattan skyline, Maxwell Place features a combination of luxury residential units, dining, and retail. Current retail businesses include Tutti Nails, Local Barre, W. Kodak, Massage Envy, and La Isla. With its Frank Sinatra Drive address, Maxwell Place is centrally located and provides easy access to Pier 13, one of the premier public outdoor spaces in Hoboken and a thriving hub of activity during the summer months when residents can enjoy food trucks, musical concerts, outdoor movie screenings, and frozen margaritas from the comfort of their own lawn chairs. Pier 13 also benefits from easy PATH train access to Lower Manhattan.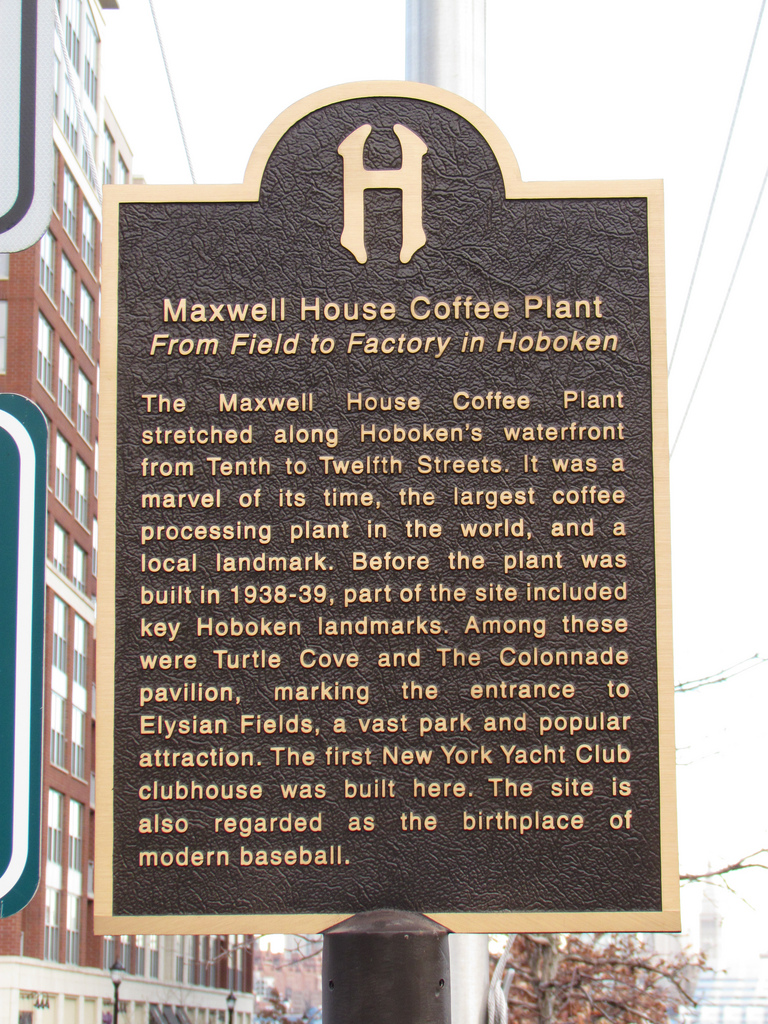 Although the smell of coffee no longer wafts through the Hoboken air, the Mile Square City is still very popular, and has developed one of the best ethnic dining scenes in the Garden State. It is also a favored option for young New York families who crave a small-town atmosphere and row houses with convivial stoops in which to raise their children. 
Urban History is part of a new series at www.urbanagendamagazine.com in which we profile historic New Jersey locations, businesses, and attractions with fabled, well-loved pasts.