We Remember Alan Jay Lerner Well

The My Fair Lady Lyricist's Centennial
By Donald H. Sanborn III
Lyricist, librettist, and screenwriter Alan Jay Lerner (1918-1986) writes in his autobiography The Street Where I Live, "Lyrics, no less than music, are written to be heard. A lyric without its musical clothes is a scrawny creature and should never be allowed to parade naked across the printed page." In his centennial year, his lyrics are being heard and read. Lincoln Center Theater's revival of My Fair Lady, the masterpiece musical he wrote with composer Frederick Loewe, began previews last March.
That month also saw the publication by Oxford University Press of The Complete Lyrics of Alan Jay Lerner. This anthology is edited by Dominic McHugh, author of Loverly: The Life and Times of My Fair Lady and Alan Jay Lerner: A Lyricist's Letters; and Amy Asch, who previously compiled and annotated The Complete Lyrics of Oscar Hammerstein II.
McHugh suggests that what sets Lerner apart is "his range, which we got the full measure of while compiling the Complete Lyrics. Lerner was a great romantic but also an intellectual. His wordplay reveals his high intelligence, wit, and ingenuity."
Asch remembers that before she started working on the book, she had "the mistaken impression that Lerner was a bit lazy.  But I learned that Lerner was the one who got the various projects rolling. And he persevered. He kept on writing in the second half of his career — even when his shows flopped, and musical theater stopped being as central to American culture as it once was."
On September 12 Asch signed copies of the book, at the Barnes & Noble at 150 East 86th Street in New York City. The event featured performances by cabaret singers Richard Holbrook and Shana Farr, accompanied by Daryl Kojak. Holbrook also served as moderator for a discussion between Asch and Margot Moser, the last performer to portray Eliza in the original Broadway run of My Fair Lady, and the first American to play the part.
Farr sang "Wouldn't It Be Loverly" and "I Could Have Danced All Night" from My Fair Lady; and the title song from On a Clear Day You Can See Forever, which Lerner wrote with composer Burton Lane. Holbrook's performances included "Almost Like Being in Love" and "The Heather on the Hill" from Lerner and Loewe's Brigadoon, and "On the Street Where You Live" from My Fair Lady.
"What I like about Lerner's lyrics is that they all touch on certain emotions and feelings that still exist and are viable today," says Farr. "The lyrics for "On a Clear Day" are optimistic and real. Even in the case of "I Could Have Danced All Night," you can take it out of the musical and make it your own. Many of Lerner's lyrics are still powerful, because they help the performer to connect with the audience — and that's what performing is all about, sharing that live energy."
Holbrook presented It's Time For a Love Song: The Lyrics of Alan Jay Lerner at Don't Tell Mama in early October. He observes that the lyricist "led two lives, personally and professionally. He was a well-educated man who came from a wealthy middle class family and became one of the finest lyricists in films and the theater. However, his private life was different. He married eight times, he smoked, and he had a nervous habit of biting his nails. Performing these love songs reveals to me that Lerner was a tortured soul who wished that he could be a more secure, confident person — who could fall in love with just one person, and it would last forever."
McHugh observes, "There were multiple versions of dozens of the lyrics and almost every song has at least one change that Lerner made along the way. It was challenging to make sense of all these versions, but also very rewarding because we could see Lerner's mind at work." Moser agrees. "He was never satisfied. That's why Asch and McHugh have so many different versions of certain songs, because he kept fixing his songs all the time. He was a perfectionist."
Lerner and Loewe
The first Lerner and Loewe musical was Life of the Party, in 1942. This was followed by What's Up and The Day Before Spring. In the latter show Lerner explored a concept to which he would return multiple times: letting contemporary characters visit the past.
In 1947 Lerner and Loewe had their first major success: Brigadoon opened at the Ziegfeld and ran for 581 performances. The story concerns two Americans who encounter a magical Scottish village that appears once every century. In 2014 Liza Lerner — the lyricist's daughter, who is a producer and an interior designer —produced a revival at Chicago's Goodman Theatre. New York City Center presented a concert production in 2017.
In addition to these early works with Loewe, Lerner wrote Love Life with Kurt Weill; the show opened in 1948. It contains "I Remember It Well," in which a man and woman recall the same evening differently. Lerner remembered the idea well, and adapted it for the film Gigi 10 years later. Lerner also wrote a film, Royal Wedding, with Lane; and the screenplay for An American in Paris. In 1951 Lerner and Loewe opened Paint Your Wagon, a Gold Rush-themed musical.
"My Fair Lady"
"Lerner and Loewe tussled with musicalizing Pygmalion for years, and at one point gave up," notes André Bishop, the producing artistic director of Lincoln Center Theater. "Other songwriting teams had been approached; Rodgers and Hammerstein were unable to do it. So Lerner found it a difficult task to compress this complex show into a Broadway vehicle for the mid-fifties without making it a love story."
The idea of adapting George Bernard Shaw's play into a musical was that of Gabriel Pascal, who had produced the 1938 film starring Leslie Howard and Wendy Hiller. "If you read Pygmalion you'll notice that many of Lerner's lyrics, and a great deal of the book, are straight from the play, or Shaw's screenplay for the movie," Bishop observes.
The story concerns Eliza, a cockney flower girl, who offers to pay a reclusive and cantankerous phonetics professor, Henry Higgins, to teach her to speak English properly. As Higgins boasts they would, the grueling lessons enable Eliza to succeed at an embassy ball, where she is mistaken for a princess. After the ball, however, Eliza becomes upset by Higgins' indifferent treatment of her, and leaves him.
"Higgins realizes…that he is drawn to Eliza, that he has feelings for her," Bishop says. "On his way home he sings 'I've Grown Accustomed to Her Face. She almost makes the day begin.' You realize it's a kind of love song for this repressed guy who doesn't know much about the world. She's the one who ultimately molds and teaches Higgins. He may give her a new accent and a better station in life — this is Edwardian England, not 2018 — but she gives him a heart, and she is the stronger of the two."
The original production starred Rex Harrison as Higgins, and Julie Andrews as Eliza, and opened on March 15, 1956. It ran for six years, breaking the five-year record set by Oklahoma! Moser remembers that during the final performance on September 29, 1962, when Higgins boasts that "in six months I could pass her off as a duchess at an embassy ball," a member of the audience shouted, "tell him it's the last night, Margot!"
"When My Fair Lady came out, I was in high school," says Steve Ross, who, with Maximilian St. James, presented We Remember Him Well: The Songs of Alan Jay Lerner at the New York Public Library in August. "None of us had ever heard something that smart, chic, or well performed. The cleverness of the words, and beauty of the melodies that accompany the lyrics, made Lerner's songs something I had to sing."

Eliza Returns to Broadway
Directed by Bartlett Sher, the 2018 revival opened April 19 at Lincoln Center's Vivian Beaumont Theater, starring Lauren Ambrose as Eliza and Harry Hadden-Paton as Higgins. Bishop says of the cast, "Lauren is a very good singer, and a superb classical actress." Hadden-Paton was cast because "we wanted a younger Higgins, so that there wouldn't be such a difference in their ages."
Ambrose played her final performance October 21, leaving to appear in an M. Night Shyamalan series for Apple. Laura Benanti replaced Ambrose in the role. On September 9 Diana Rigg played her final performance as Higgins' mother, and has been succeeded by Rosemary Harris.
"The Lincoln Center Theater production reminds audiences how brilliant and special this show is," remarks Liza Lerner. "Revivals are having a harder and harder time gaining traction with audiences, partly due to the aging population from that time, but the audiences at My Fair Lady are of all ages. It is gratifying to see. I think now is the time to be open to new interpretations for these older and beautiful shows, but My Fair Lady has no need for this."
Later Shows
McHugh observes that the 1960 Lerner and Loewe show Camelot "was a bold move in a new direction. Lerner wanted to do something different from the lighter style of My Fair Lady and Gigi, and Arthurian myth is more deeply romantic and grand. On the other hand, Camelot was a commercial idea because there were numerous versions of the legend in the 20th century." St. James adds that a spoken monologue delivered by Arthur at the end of the first act is "an aria without music."
After Camelot Lerner and Loewe collaborated on two more projects: a stage adaptation of Gigi; and a film, The Little Prince. Gigi was revived on Broadway in 2015, adapted by Heidi Thomas.
Liza Lerner co-produced a 2011 Broadway revival of On a Clear Day You Can See Forever. She tells the Weiner Nusim Foundation that the show "is about reincarnation, psychic discoveries, and ESP." The show has just concluded a run at the Irish Repertory Theatre, where Charlotte Moore is the artistic director.
"At the end of our three-month run, I am finding subtleties at every performance," says Moore, who directed the production. "I think ESP and reincarnation mysteries will never lose their appeal, although their interest has waned from the mid-sixties to now. People who knew Mr. Lerner have regaled me with stories of his fixation on those subjects!"
Maximilian St. James adds, "As a schoolboy in London, Lerner was scheduled to attend a lecture by Sir Arthur Conan Doyle (who had become a spiritualist), who had announced that he would reveal certain heretofore unknown secrets concerning the Great Beyond, and reincarnation. A few hours before the lecture was to have taken place, Conan Doyle suddenly died. That stuck with Lerner all his life, and he had a preoccupation with 'what happens next.' That was always with him."
As part of a celebration of Lerner's centennial, the York Theatre Company will present Carmelina, which Lerner wrote with Lane and librettist Joseph Stein, starting January 2019. The show was seen briefly on Broadway in 1979; York has presented the show twice before, in 1996 and 2006. The production will be part of the York's Musicals in Mufti series, which will also include staged readings of Lolita, My Love, a show Lerner wrote with John Barry, which opened in Boston but never was moved to Broadway; and the world premiere of a stage concert adaptation of The Little Prince, for which Erik Haagensen has adapted Lerner's screenplay.
Lerner's final Broadway musical was Dance a Little Closer in 1983. The score, for which Charles Strouse composed the music, includes "There's Always One You Can't Forget." Shana Farr notes that "the show was only on Broadway for one night. But everyone who's experienced a broken heart can relate to the lyrics of that song. Lerner's lyrics are the type that don't change over time. That's one of the reasons Lerner is a part of the Great American Songbook. Most of the songs that sit in that collection can hold true to what's going on in today's world."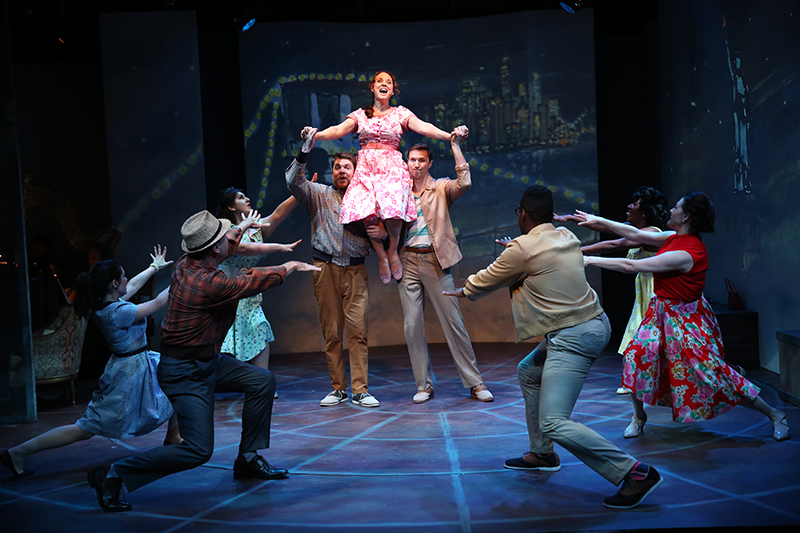 Melissa Errico and the cast of Irish Rep's "On a Clear Day You Can See Forever." Photo by Carol Rosegg.
Legacy
Asch considers "the immeasurable joy his works have given to theatre audiences — in their original runs, and in movies, and cast albums. Not to mention regional theatres, summer stock, and high schools over the decades — plus the pop recordings of his songs. The words soar because of the music that goes with them. All of it starts with a germ of an idea and a blank piece of paper.  After intense effort, the idea finds expression in words and in music — and when someone of Lerner's ability gets it just right, the song feels inevitable, like it has always existed."
"The musical theater is an inherently American art form. Lerner and Loewe, along with Rodgers and Hammerstein, were at the forefront of creativity in that field," Liza Lerner says. "I think it's important that audiences today see these shows, not just from an archival standpoint, but the themes, and stories resonate today in the same ways.  I think audiences crave to be transported, by song, language, and spirit."