World-Class Horse Racing in Far Hills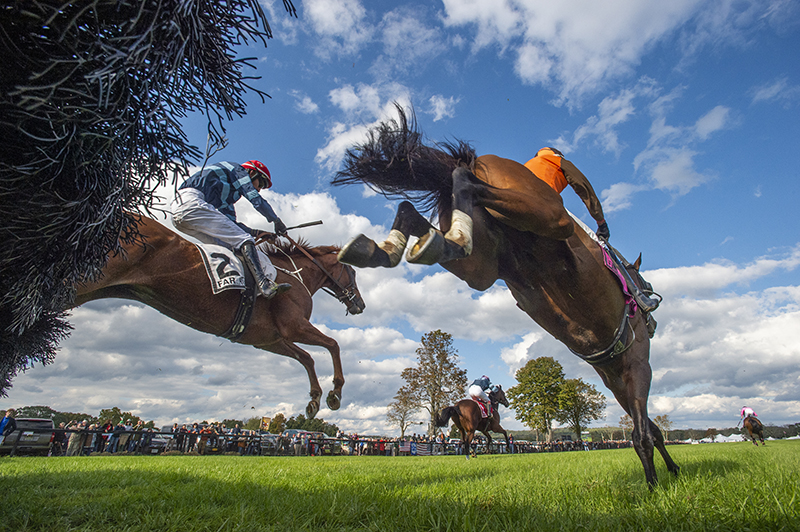 The 99th Running of the Race Meeting Steeplechase
By Taylor Smith | Photos courtesy of Far Hills Race Meeting 
This October 19 marks the 99th running of the Far Hills Race Meeting, an annual event held at Moorland Farm in Somerset Hills, New Jersey. Based on a fox hunt organized by the Essex Hunt in Montclair circa 1870, the modern-day event involves legal wagering and has grown to be one of the richest purses in America. Guy Torsilieri, president of the National Steeplechase Association and co-chair of the Far Hills Race, assures newcomers that "there's something for everyone."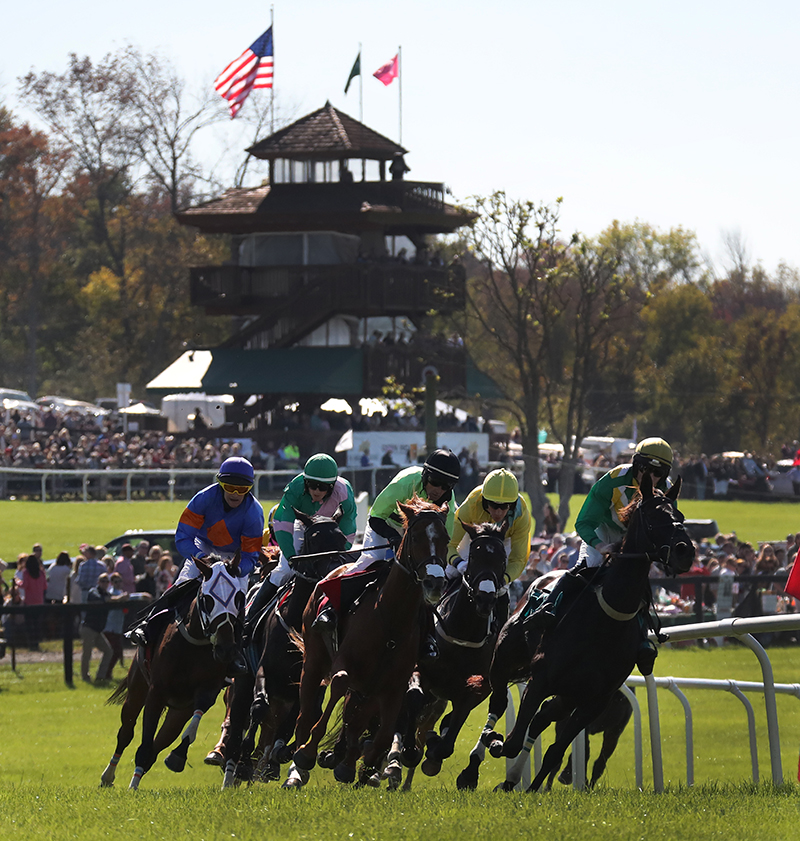 Chief among the hallmarks of the Far Hills Race Meeting are the equestrian fashion and the high-end tailgating. While the sporting events don't begin until 1 p.m., the gates to Moorland Farm are unlocked at 8 a.m. to allow attendees to park their vehicles and roll out their elaborate catering and oriental rugs. Regular racegoers describe the atmosphere as a mix between a collegiate homecoming and a well-heeled British sporting event.
Many of the premier parking spots are passed down from generation to generation. Whether you are interested in simply watching the race or require a deluxe tent package, a range of admission options are available for purchase at www.farhillsrace.org/buy-now/. Tent services allow racegoers to entertain a private party of 25-250 guests, along with premium viewing, parking passes, personal event programs, and private restroom access. For more details, call 908.234.9115. General admission tickets start at $100.
For those seeking catering services for their reserved parking space or tent, Far Hills Race Meeting recommends a number of regional businesses. Black River Catering (www.blackrivercatering.com), The Brownstone (www.thebrownstone.com), Monterey Fine Foods (www.montereyfinefoods.com), The Meadow Wood (www.themeadowwood.com), Metropolitan Seafood & Gourmet
(www.metroseafood.com), Redwoods Catering (www.redwoodspremiumcatering.com), The Catering Company (www.thecateringcompany.com), Delicious Heights (www.deliciousheights.com), and Kings Catering — Bedminster (www.kingsfoodmarkets.com), are just a few. Esposito's Ice in Morris Plains will handle all of your ice needs (www.espositoice.com). In terms of rental supplies, Adams Party Rental (www.adamsrental.com), Party Rental, Ltd. (www.partyrentalltd.com), and Prestige Party Rental, Inc. (www.prestigepartyrental.com) will deliver everything you need to your assigned parking spot. You can even order hay bales (priced at $20 apiece) on Far Hills Race Meeting's website (www.farhillsrace.org).
Bringing your own food and dining accommodations is not a requirement, and attendees can also park off site or use NJ Transit as a means of transportation.
Torsilieri points out that there is an array of food options for visitors to enjoy at the race. This year's food trucks include Angry Archie's (www.angryarchies.com), Bacon Me Crazy (www.baconmecrazy.com), Cubano X-Press (www.cubanoxpress.com), Empanada Guy (www.empanadaguy.com), Fired Up Flatbread (www.firedupflatbread.com), Good Mood Good Food (www.goodmoodtruck.com), Grain & Cane (www.grainandcane.com), and Oink & Moo BBQ (www.oinkandmoobbq.com). In addition, the plethora of cheese, cocktails, grilled meats, chili, and crab dip going around is bound to keep anyone satisfied.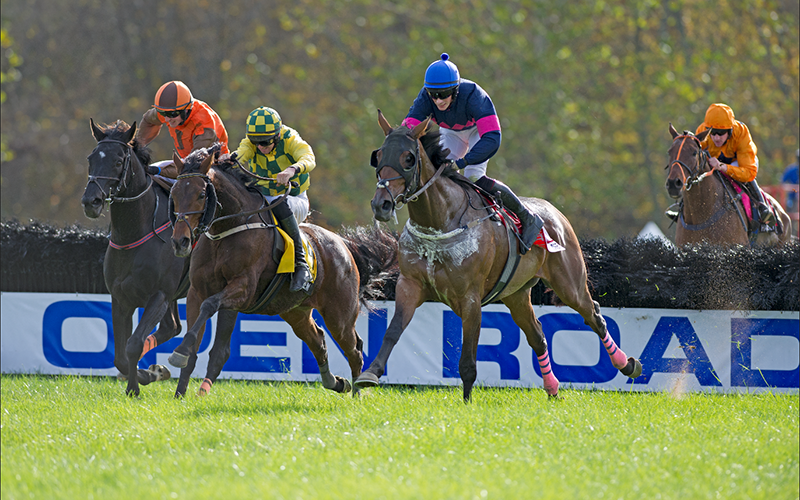 In terms of fashion, you may be wondering how to dress for the event.
Equestrian sporting events are a staple of Britain's upper-class social scene. While an entire wardrobe of Barbour, Ralph Lauren, or Orvis isn't required, sporting attire in muted country colors works best. Also, keep in mind that the event is outdoors, in the Northeast, in mid-autumn, at a farm. Justifiably, spiky women's heels are not the best option. Much more appropriate is a pair of well-worn Wellingtons. Brown tweed jackets, barn jackets, tartan scarves, anything waxed cotton, and a classic cap (a driving cap for men and a wool felt hat for women) are also good choices.
Female equestrian fashion as we know it today actually arose during the 1920s and 30s to coincide with women transitioning from riding sidesaddle to riding astride. Other attitudes, like the trend towards short, bobbed hair for younger women during the flapper period and later, the movie star image of Katharine Hepburn in slacks, signified a "sportier" vision of women, in general. Famously, Elizabeth Taylor's starring role in the popular film National Velvet (1944) created a ripple effect among leading women's fashion magazines and fashion brands. In fact, several European luxury fashion houses have roots in the sport of horseback riding. For example, Hermès began in 1837 as a harness workshop in Paris. Specializing in leather goods, such as saddles, bridles, and other forms of riding gear, Hermès is now a worldwide influencer, known just as well for their handbags as their silk scarves.
The pop-up race day shops can be found at Vendor Village at Moorland Farm. A range of merchandise from businesses like Harding-Lane (www.harding-lane.com), Dubarry (www.dubarry.us), J Wilder Import (www.jwilderimport.com), and Mobile Cigar Lounge (www.themobilecigarlounge.com), will keep shoppers busy.
Far Hills Race Meeting is not only a noteworthy social event, it also gives back to the community. Over the years, it has donated more than $18 million to support regional health care organizations including RWJ Barnabas Health, Cancer Support Community Central New Jersey, Bonnie Brae, The Arc of Somerset County, Life Camp, and Community in Crisis. The 2019 sponsors are Peapack Private Wealth Management and Open Road Auto Group.
As many as 75,000 people are expected to attend the October 19 event. New Jersey Transit will operate additional trains on race day to accommodate attendees who choose not to drive. Trains run continuously from Hoboken and all stations on the Gladstone line on race day. For detailed information, visit www.njtransit.com or call 973.275.5555. Car service drop-off/pickup is at Gate 3 on Liberty Corner Road near Route 202. Limousines may not park in the village of Far Hills. All travelers should plan ahead as some congestion is expected by late morning. For more information, visit www.farhillsrace.org.
See you at the race!