16th Annual Architectural Digest Design Show

Hästens Beds will be at the 16th annual Architectural Digest Design Show.
From March 16-19, over 40,000 design diehards are heading to Piers 92 & 94 in NYC
By Sarah Emily Gilbert 
Spring is in the air and so is design inspiration. From March 16-19, the 16th annual Architectural Digest Design Show will takeover Piers 92 & 94 in New York City. The four-day fair, which is produced by The Mart, a Vornado Property, and hosted by Architectural Digest, will include design displays from over 400 luxury brands, along with talks, seminars, demonstrations, and signings. From state-of-the-art kitchen appliances to artisan-made objets d'art, the show has something for all tastes and interests. The event is divided into various themes including Furniture, Made, and Refresh. Furnish is comprised of textiles, art, rugs, furnishings, and wall coverings; Made features original art, furniture, sculpture, and lighting that are available for purchase; and Refresh showcases new innovations in appliances and building products.
Tickets to the show are now available online at ADDesignShow.com. It is free to design trade who pre-register online. The on-site ticket fee for trade is $30. General (consumer) admission is $30 online and $40 at the door. Ticket price includes full access to the exhibition hall, DIFFA'S DINING BY DESIGN table viewing (co-located at Pier 92), programs and panels in the Jenn-Air Master Class Studio, and many more daily special events. A portion of the proceeds of all ticket sales benefits DIFFA Design Industries Foundation Fighting AIDS.
Below, Urban Agenda Magazine highlights some artists and designers from this year's show.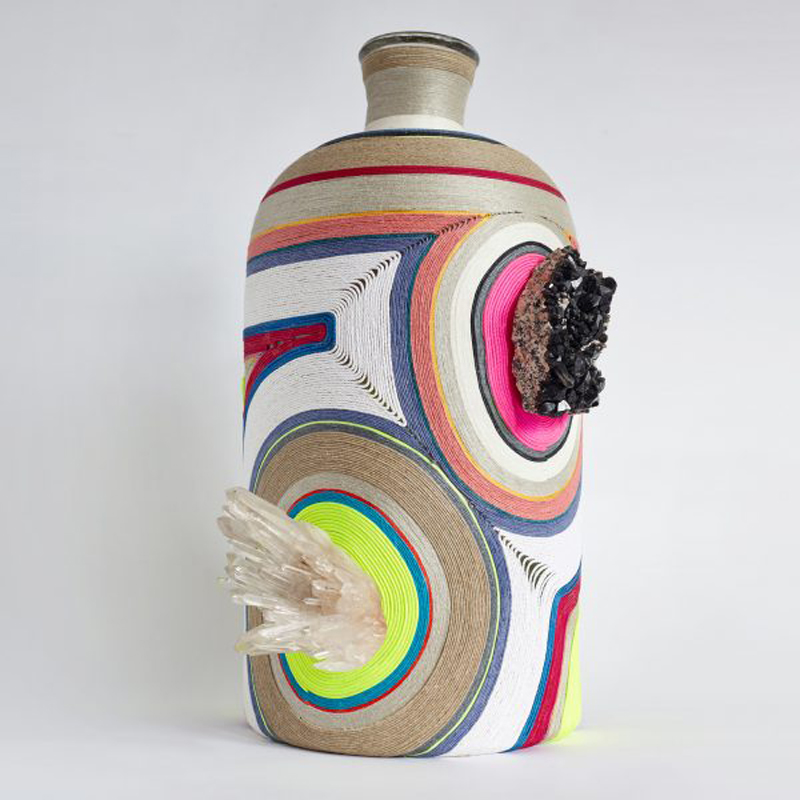 Colorful, yarn-covered vases with crystals and geodes protruding out of the sides – these are among the art objects Chad Wentzel of Chad Wentzel Made will be showing and selling at this year's show. The Detriot resident hand makes tabletop and wall items, textiles, and lighting for "the grown up hippy." Wentzel tries to bring positive energy to his mineral bottles, like the one pictured here, by soaking them in salt from the Pacific Ocean for seven days and including crystals in its structure.
At last year's Architectural Digest Design Show, Flat Vernacular's booth was a hit. In the midst of the adult coloring book trend, their Pigeon Pizza Party Wallpaper enabled people to color in the pattern themselves. This year's display is sure to be equally impressive. The Connecticut-based design studio produces beautiful printed materials for interior design including this Precipice – Vinson Massif wallpaper that is available for purchase on their website.
Kate Casey of Peg Woodworking will have a booth showcasing her sculptural furniture that features patterns inspired by Peruvian and American Indian weaving. Pictured here are her Fireside Benches shown in bleached ash and black and white cotton card.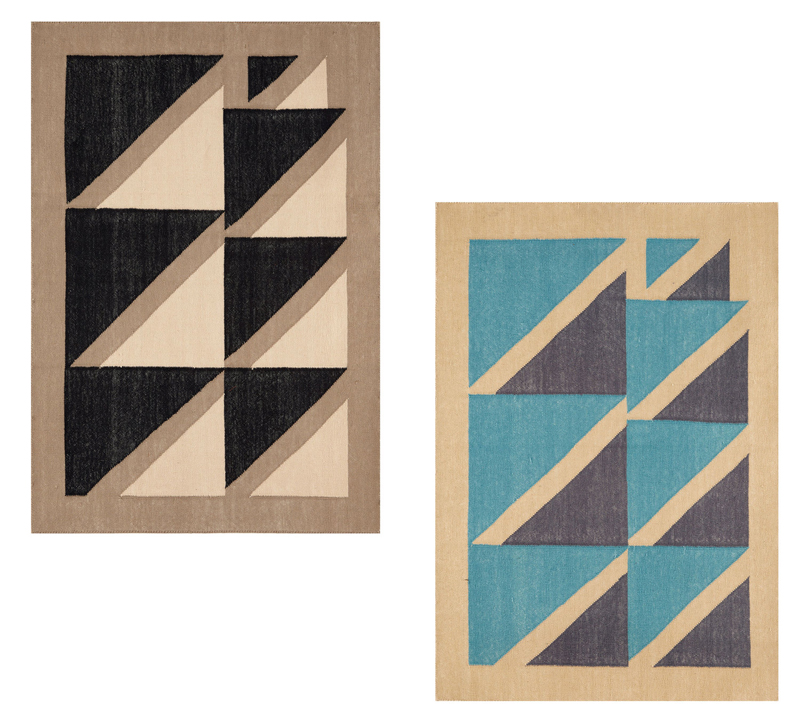 Another Brooklyn studio, Tantuvi, will be rolling out the carpet for ADDS patrons. Designer Arati Rao will have her artisan flat weave rugs at the show. She also sells free flowing womenswear on her website. Pictured here are No. 2 Obsidian and No. 2 Sky, which are 100% cotton hand dyed and hand woven rugs made by artisans in Rajasthan, India.
An American construction project manager and a Latvian artist have collaborated to create Kiel Arto Design, which specializes in handmade tables made out of reclaimed automotive steel. Their artistic tables will be on display in Booth 616 in this year's show.
Nicole Renee of Mercer, Pennsylvania is a contemporary watercolorist, oil painter, and muralist who will be exhibiting her work in the show. Much of Renee's artwork is inspired by her dreams, which are often a view of the real work through rose-colored glasses. Pictured here is her 18×24" oil painting, "Crying How Bright."