A modern locale steeped in history.
Known as one of the most prestigious towns in the country, Summit, New Jersey was first settled around 1710 as a region of small farms. With the 1837 addition of the Morris and Essex railroad line, the town became increasingly commercialized and by the late 1800s, it was considered the premiere weekend resort area for wealthy city-dwellers. Summit, aptly named for its location atop the Second Watching Mountain, quickly became known for its rural charm. Due to its close proximity to New York City, many families built summer estates in the town to enjoy the fresh air and natural landscape.
Fast-forward to 2017 and Summit is still attracting well-to-do government and business leaders looking to raise a family in a quaint town while quickly and easily commuting into Manhattan for work. This transportation hub in Union County boasts striking Tudor and Colonial style homes from the 1900s, nationally ranked schools, scenic arboretums, and quality shops and restaurants. Whether you're looking for a weekend getaway or a day trip full of family fun, the tree-lined streets of Summit, New Jersey are ready to welcome you. Urban Agenda Magazine maps out a trip to Summit for every traveler's taste.
Rise and Shine
If you're in the mood for huge portions and free flowing coffee for breakfast, the Summit Diner is your place. Calling an old railroad car home, this nostalgic 1930s-styled establishment embodies the quintessential American diner. If you plan on indulging in their delicious Taylor Ham on a weekend morning, be prepared to wait alongside the usual crowd of people craving an authentic diner breakfast.
Shop Till You Drop
For more than 20 years, Bob Carroll has worked in clothing retail in Summit. In that time, he's mastered the art of men's fashion and opened up John Hyatt Clothing. Named after his late father, the men's haberdashery offers menswear that makes a distinct connection between old and new. John Hyatt carries preppy-traditional clothing in classic American and English styles, including a Peter Millar Crown Shop, which is limited to an exclusive group of retail partners. www.johnhyattclothing.com
Started by a mother and daughter team from Summit, No. 18 Boutique knows how to dress its locals. This high-end women's clothing store sells a curated selection of American and European designers such as Iro Paris, Veronica Beard, and Rachel Zoe. Private styling sessions and personal shopping services are also available. Be on the look out for their newest shop in Hoboken this spring. shopno18.com
Find Your Adventure
Listed on the National and State Registers of Historic Places, the Reeves-Reed Arboretum is a 12.5-acre natural wonderland that is perfect for families. Its landscaping is in the style of the late 19th and 20th century and is known for its impressive herb garden and striking daffodils during the month of April. Tours of the dense woodlands, formal gardens, and Wisner House can be arranged upon request Tuesday-Friday and Saturdays from 9am to 5pm. reeves-reedarboretum.org.
Started by a group of seven painters in the early 1930s, The Visual Arts Center of New Jersey has evolved to become one of the state's leading cultural institutions. The 24,00 square foot space is dedicated to promoting and supporting the arts through exhibitions, studio classes, and community programs. The Center's year-round class offerings range from Comic Book Art for children ages 6-9 to the adult Evolution of Rings jewelry-making course. Other events include artist talks, film screenings, and wine and paint evenings. artcenternj.org.
If you're looking for style inspiration, Summit is a hub of home design and renovation companies like Cove Carpet Floor & Home, Pereaux Interior Design, and Harquail Brothers Outdoor Kitchens. At Cabri, Inc., owner Lakshmi Sheth works with her full-service design team to transform any size space with their timeless taste and competitive prices. Their design house specializes in kitchens and Wood-Mode Custom and Brookhaven Semi-Custom cabinetry. Nearby, Kitchen Expressions is well equipped to renovate everything from bath vanities and mud rooms to entire homes. cabridesigns.com; kitchenexpressions.com
At Mondo Summit, local retailers, artisans, and musicians provide you with a wide array of entertainment options. Shop this vertical mall on Springfield Avenue for creative cooking items at Kitchen à la mode, handcrafted jewelry by Heather Duetsch, a classic novel from Booktique, or other eclectic finds. Feeling inspired? Head to the Brownstown Theatre and Artspace for a jazz night or art show, view the latest movies hosted by The Film Society of Summit, or jam out at the World of Rock music school. After all the activity, settle in at Marigolds for sweet and savory café fare or, if you're really feeling Zen, try Mindfulness Meditation or another innovated workout hosted in this dynamic space. mondosummit.com
Relax and Revive
Owners Christine Ku and Zoe Cortez have combined their talents—and names— to establish Zoku, a high-end salon that brings world class cuts to northern New Jersey. Their highly trained color and style teams perform the latest trends in men and women's hair. Services range from the European highlighting technique called balayage to specialized hair and scalp treatments. A one-stop shop for all things beauty, Zoku also has an aesthetician on staff to provide spa services such as microdermabrasion, facials, waxing and airbrush tanning. zokusalon.com
Satisfy Your Stomach
40NORTH Restaurants is behind some of North Jersey's leading eateries. From neighborhood pizzerias to historical taverns, this family owned restaurant company has six brands in 11 locations through out our state, including two restaurants in Summit. Piattino: A Neighborhood Bistro offers fine Italian foods with culinary twists such as Rabbit and White Bean Pizza or Early Morning Risotto. The gastronomic adventure continues with their "Do It Yourself" charcuterie and cheese board and inventive cocktail menu. Down the road, over 40-plus craft beers are on tap at The OFFICE Tavern Grill, which serves modern American cuisine like Apple Butter BBQ Pulled Pork, Stout Battered Fish and Chips, and Chicken and Waffles. piattinonj.com; officetaverngrill.com
Sometimes you just need a steak, and no one understands that more than Roots Steakhouse. With locations in Summit, Morristown, and Ridgewood, this modern restaurant offers North Jersyians everything from dry aged porterhouse steak to a diverse array of prime cuts. The goodness goes beyond steak and into the world of well-composed salads, creative cocktails, and Jumbo shrimp over dry ice. piattinonj.com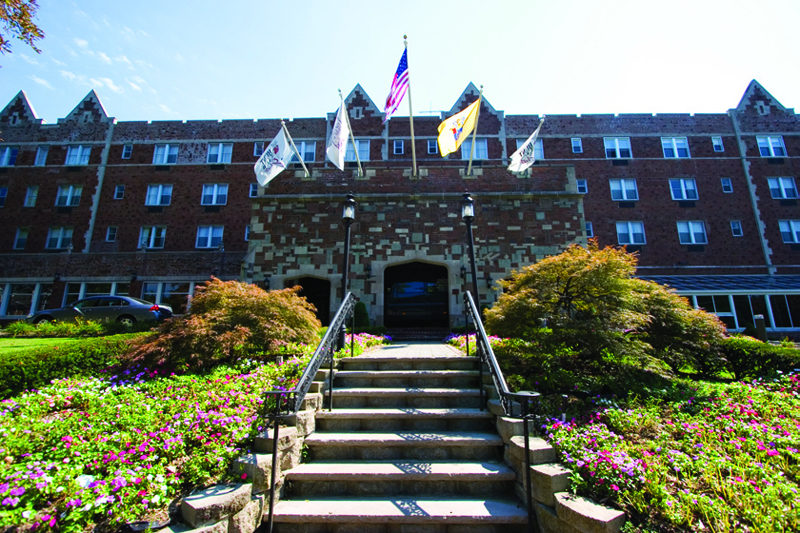 Plan Your Stay
In existence since 1868 and in its current location since 1929, The Grand Summit Hotel has certainly withstood the test of time. Established in order to cater to New Yorkers seeking to escape the city, this historical hotel has maintained its elegance. Just 30 minutes from New York City, the boutique hotel with 149 rooms and suites is ideally located for those seeking to experience both the city and the country while visiting Summit overnight. grandsummit.com