NJIT Receives NJDEP Grant with Focus on Water Quality Research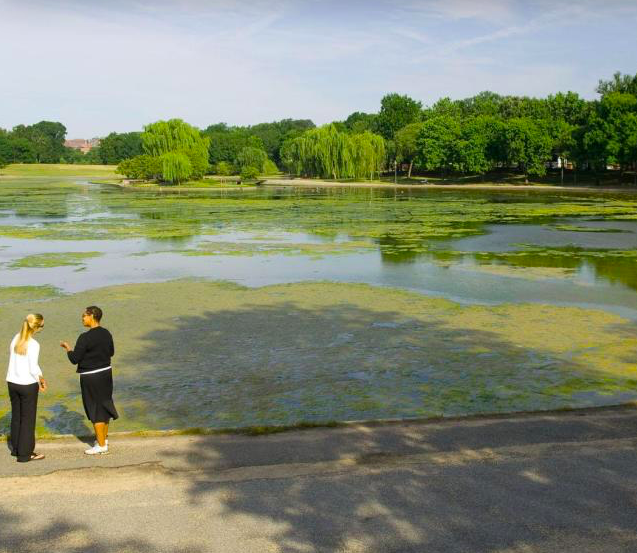 Image Source: NJIT
A collaborative research group led by the New Jersey Institute of Technology (NJIT) has been awarded a $788K grant from the New Jersey Department of Environmental Protection (NJDEP) to implement restoration and protection measures for polluted lakes and ponds. 
The grant is part of a $10M allocation announced by the Murphy administration to develop water quality improvement projects across New Jersey, funding for which stems from the federal government's American Rescue Plan that was appropriated by the state legislature. 
The researchers will first identify pollutant sources and provide recommendations for remediation, which will then serve as the blueprint for restoration and protection of the selected lakes and watersheds. These plans will address nutrient loading — the quantity of nutrients entering an ecosystem in a given period of time, all of which contribute to harmful algal blooms (known as HABs). 
The team will also implement rain gardens with green engineered mulch (GEM) in select lake watersheds to filter phosphorous, a major culprit of lake pollution. Though cost effective, typical rain gardens are limited in their pollutant filtering capabilities, and some substrates commonly used have been found to contribute to high phosphorous levels in the water when oversaturated. To combat these problems, the research team designed GEM to be an easy retrofit to existing rain gardens that better filter out pollutants like phosphorous. The GEM has been field tested in Secaucus, where two more rain gardens are currently being retrofitted, also funded by NJDEP. 
Also part of the grant is an educational component that targets community engagement around the lakes. This aspect will focus on teaching area high school students about green infrastructure designs and benefits. In addition, the researchers will conduct workshops within the communities to seek their input on goals for the surrounding landscape and waterways. 
NJIT is located at University Heights in Newark. It is ranked as a "Top 50 National Public University" by U.S. News & World Report. To learn about current news and fields of study, visit https://www.njit.edu.