Spring Fashions at Dor L'Dor

Shop this season's trends from every fashion girls' go-to boutique.
By Sarah Emily Gilbert 
At Dor L'Dor, fashion girls in the greater Metropolitan area stay on trend and on budget. The hip boutique carries the hottest European labels at affordable prices in their seven brick-and-mortar locations in New York City and Northern New Jersey. As a result, their racks are filled with bold and unexpected items that feature the season's latest styles. Recently, Vogue compiled an online article with the biggest runway trends for spring 2017, and Dor L'Dor has tons of them readily available in shop or online. Here, we selected some statement pieces from Dor L'Dor that reflect the latest and greatest in spring fashion.
Dor L'Dor's fluorescent yellow Cape Blazer combines three trends: neon colors, square shoulders, and statement sleeves. Put together, they lead to one reaction: BAM!
Get graphic with this black and white striped ankle dress by L'atiste. Add a pop of color with a bright heel, lipstick, or clutch.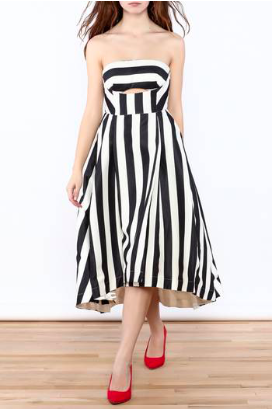 Who said functional can't be fashionable? This Shorts and Blazer set by HYFVE brings the working girl into the warm weather months.


This navy jumpsuit is perfect for a spring dinner, which will likely cost you more than this $20 piece!
White is in, and the ruffle sleeves on this dress take it to the next level.
This blue striped halter with off-the-shoulder sleeves screams spring. Its red piping has a nautical vibe that makes you say ahoy to the season.
It's hard to make sheer material and cutouts look tasteful, but this jumpsuit takes the challenge on full force. The detailed crocheting and billowy sleeves make it sophisticated and sexy.
You might not expect a tartan or plaid print on a dress, but this v-neck sundress proves that it makes for a charming combination.
Shop these trends in store at one of these Dor L'Dors locations:
Lower Manhattan
80 Nassau Street
New York, NY 10038
212-227-4949
Brooklyn
802 Avenue U
Brooklyn, NY 11223
347-462-4933
Hoboken
413 Washington Street
Hoboken, NJ 07030
201-216-9226
Red Bank
 25 Broad Street
Red Bank, NJ 07701
732-383-8269
Summit
447 Springfield Avenue
Summit, NJ 07901
908-522-6543
Midtown East
301 East 41st Street
New York, NY 10017
646-678-4347