The Ins and Outs of Alfresco (or Close to Alfresco) Dining
By Wendy Greenberg
A sure sign of summer is when tables and chairs are set outside at restaurants, frequently brightened by colorful umbrellas and accompanied by succulent summer menus. Whether you prefer an awning, an old-fashioned porch, or are a purist who shuns any barrier to the elements, now is the time to take advantage of the many alfresco options offered in the Northern New Jersey area.
One patron put it this way: "Why would I want to sit and eat in a place with artificial lighting, when I am in an office all day?" Area restaurateurs report that they field many requests for reservations at tables in the open air, even when clouds hang low.
"Alfresco dining creates a different energy and vibe," says Chris Perez, general manager of Albariño in Shrewsbury. "It's a more natural, rustic space in which to break bread."
Restaurateur Afrim Berisha, owner of Bernardsville's Bistro Seven Three, explains the lure, "We're not in California or Florida where it's nice all year. After a dreadful winter and wet spring, people want to be outside. It's a limited season, five months or so, but they love it."
At Bistro Seven Three, the outdoor seating area is an alley between two buildings, which protects patrons from some wind but allows them to "people watch" among twinkling lights, hanging plants, and navy blue umbrellas when its sunny. The European setting, which reminds Berisha of Italy, doesn't feel like it is on a busy street. "It's charming," he says. The extra 40 seats turn over twice on a weekend, adding the possibility of 80 additional dinners.
Although the challenges of outdoor dining are many — permits, architects, and rain, to name a few, "It's absolutely worth it," says Berisha. "It's a big winner for us. People go away in the summer and it used to be slow, but with the patio, the entire summer is busy." The intimate patio space is open mid-April through November. "It's BYOB and its casual – no stress!"
Certain menu items just shout "summer on the patio." For example, at Bistro Seven Three the Swordfish Kabobs with Basmati Rice, Arctic Char, and Bronzino all complement dining out of doors, as do fresh zucchini chips with a side of tzatziki sauce, oregano, and sea salt.
Busy Sidewalks
And when one establishment offers outdoor dining, others follow suit. If George Washington stayed in Morristown today (as he did in the late 1770s), he would no doubt celebrate the end of his winter encampment by enjoying dinner alfresco at one of the many bistros lining Morris, South, or Washington streets.
The outdoor patio at South and Pine in Morristown seats 40 to 50 people. "It's like having another restaurant," says Brittany Messuti, director of operations. She attributes its popularity to the "vibe" — BYO and relaxing. "Being in the heart of Morristown and having such a large outdoor dining area, we are really a neighborhood staple. You can just sit with a glass of wine." The beige umbrellas cap the black lattice tables and chairs.
Morristown has evolved into a top dining destination, and, with the opening of the refurbished Mayo Performing Arts Center in 2011 and its additional renovations in 2014, many restaurants have added outdoor café areas. The Committed Pig, the elegant Jockey Hollow Bar and Kitchen in the renovated 1918 Vail Mansion, and Nunzio's Dolce Vita with its red chairs and umbrellas, are among those which have outdoor seating. South and Pine's popular summer items include its signature Grilled Salmon, and Scallops. "I think about fresh, local seafood when I think about summer," says Messuti.
"The Patio is Open"
Outdoor dining is so popular that some restaurants let guests know the patio is open, via website, like The Grand Café in Morristown. The elegant patio, called The Grand Allee, is under a black and white striped awning and surrounded by plantings and hanging flowering plants, in a long space entered through an ornate wrought iron door.
The view overlooks a pocket park, and the Morristown Green can be viewed from a distance.
"What our guests say and what they love about outdoor dining is that it is away from the main street and quieter than some outdoor dining on the street, and the awning gives relief from sun and chance of inclement weather," says General Manager Walter Hansberry. "The hanging baskets are a big hit every year and very beautiful. The food is also enjoyed by all, and the selection of cocktails and special drinks." Ahi Tuna and Lobster Fusilli Seafood Pasta are among the fine dining summer menu items.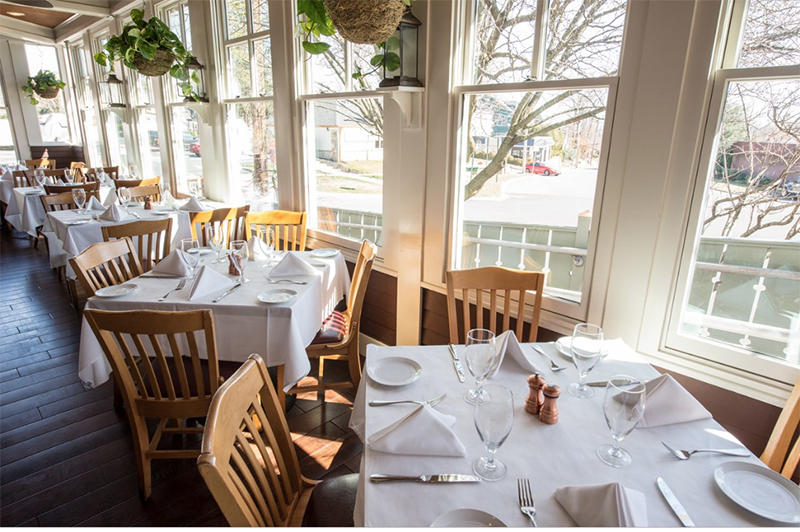 Like Morristown, Millburn has the feel of a more bustling downtown area when the tables and chairs are out at several of its restaurants. Additionally, several alfresco choices are available in Summit, including Huntley Taverne and its celebrated porch.
Huntley Taverne's unique Mission-style architecture and romantic all-season wraparound porch provide the backdrop for its fresh seasonal menu and wines and brews. The porch seats up to 50 people for a la carte dining and a maximum of 25 for private events.  "It is easily one of the most requested seating areas in the restaurant due to its wall of windows and open-air feel," says Rebecca Budd of Harvest Restaurants, which includes in its group 3 West in Basking Ridge, Roots Steakhouse in Summit and Morristown, and Urban Table in Morristown and Basking Ridge. "The plants and hanging flowered baskets make it feel like spring all year-round, and even in cold weather months guests can't help but gravitate toward the porch in order to cure their wintertime blues." 
Huntley Taverne serves a seasonal farm-to-table style menu that changes almost daily. Highlights include a crispy Calamari Salad over frisee and radicchio with a Thai chili miso vinaigrette; Huntley's Wood-Fired Pizzas; and the Harvest Pork Chop, which has been a longtime guest favorite.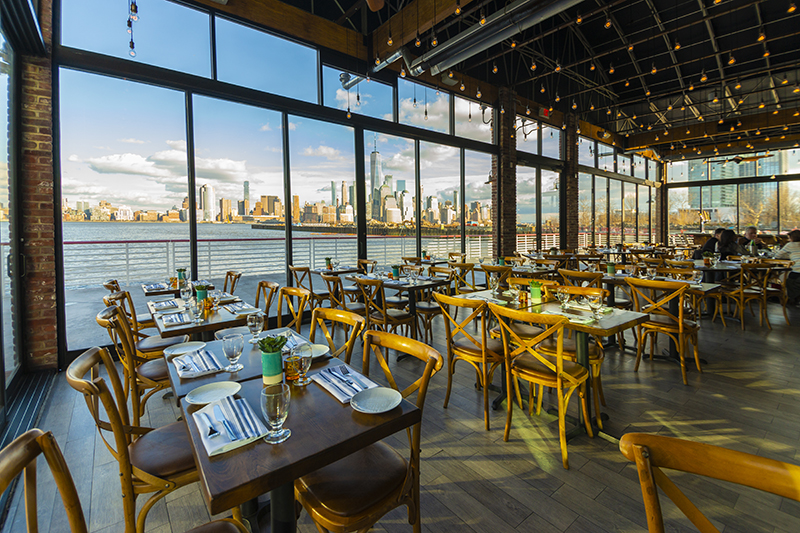 Skyline views
Those who want more of an urban view can veer east for views of New York City, and head to Jersey City, where Battello on the Hudson River offers breathtaking views of the Manhattan skyline. Chef Ryan DePersio has designed a contemporary Italian-based, seafood-influenced menu served in an environment that "evokes the industrial mood of a boathouse while also exudes the luxury of fine waterfront dining," according to its website. Floor-to-ceiling windows on three sides of our dining room effortlessly open up, providing a haven for dockside dining and cocktails during warmer months.
The outdoor seating accommodates 80 seated, and more in a cocktail-style reception. Much of the marina-inspired decor is salvaged, including the rowboat hanging above the entrance and the brass yacht lanterns affixed to the walls.
Easily reached from New York City or New Jersey, Battello, which opened in spring of 2014, is a short ferry ride from downtown Manhattan and steps away from the Newport PATH and Hudson Bergen Light Rail station. Happy hours are Monday through Thursday beginning at 4pm. Every Thursday there is live acoustic music, and on most Friday and Saturday nights there is live music.
Battello regularly hosts events such as wine dinners from notable estates both stateside and from across the globe. The summer menu includes such warm weather favorites such as Pan Roasted Day Boat Scallops with quinoa torta; Tuscan White Bean Stew and steamed cockles; Mediterranean Bronzino with barlotto, green olive, sun-dried tomato, tahini yogurt, and arugla pesto; and Line-Caught Swordfish with Sicilian eggplant caponata, pine nuts, and caper-raisin emulsion, in addition to aged beef dishes and pasta.
Several other restaurants offer Manhattan and Hudson River views, including The Restaurant at Maritime Parc, which just re-opened after a remodeling. Owner/chef Chris Siversen presides over a grand restaurant that includes an outdoor stone patio at Liberty State Park, where he discovered the waterfront property and envisioned a modern version of a coastal seafront destination. Steps away from boats docked in the marina, the patio is a sunny and tranquil setting for a leisurely brunch or dinner with large umbrellas. The patio accommodates 68, plus an additional 25-30 at the lower bar area. Summer menu items are light and simple — look for appetizers of Charred Octopus or Grilled Asparagus, and main courses of Lobster Thermidor, steak, and chicken. 
Choices abound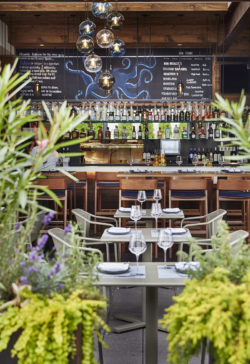 A leisurely drive toward Asbury Park will get you to Shrewsbury, slightly inland from Sea Bright and Monmouth Beach, home of Albariño, which opened in 2017 as part of the Princeton-based Terra Momo Restaurant Group. A patio with a retractable roof and side panels seats 30 people. The cozy space is lined around the perimeter with an herb garden, which at different times grows lettuce, rosemary, thyme, mint, lemongrass, and the like, used in the kitchen. The menu features Spanish-inspired dishes with local ingredients, and the wide selection of tapas, which is a selection small plates meant to be shared, and paired with wine, beer, or crafted cocktails, seems particularly suited to summer dining. Tastings and special events are scheduled.
Outdoor dining choices abound. Check Ninety Acres farm-to-table outdoor dining in Peapack or take a drive to Whitehouse Station's Ryland Inn. Wherever you dine, enjoy the warm nights, and the special atmosphere. There is a limited window until it's time to fold up the tables and chairs.